Published: November 10, 2014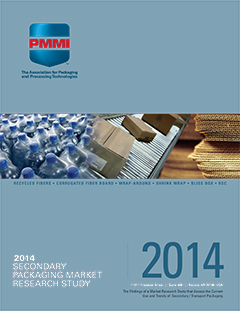 CHICAGO, IL | US packaging machinery shipments increased by 6%, to $7.9 billion, in 2013; and a rise in retail-ready packaging (RRP) is changing the role of secondary packaging, according to PACK EXPO owner and producer PMMI, The Association for Packaging and Processing Technologies.
PMMI released the findings of its 2014 State of the Industry: Packaging Machinery Shipments Study (SOTI) and 2014 Secondary Packaging Market Research Study at a press briefing conducted on site at PACK EXPO International and Pharma EXPO 2014.
PMMI member packaging machinery manufacturers provided data for their 2012 and 2013 shipments for this study; total US packaging machinery shipment estimates also incorporated projected non-member shipments.
"Total US consumption—an overall figure that includes imports, exports, and domestic shipments—reached $9 billion in 2013," says Jorge Izquierdo, VP, market development, PMMI. "Foods and beverages together continue to account for more than half of the shipments. This is consistent with what we've seen over the past ten years."
While SOTI illustrated a consistent overall market, PMMI's 2014 Secondary Packaging Market Research Study revealed a dynamic industry segment feeling the strength of consumer trends.
"In 2008, when we last conducted this survey, every company we spoke to said they were trying to reduce their costs and improve their sustainability ratings in secondary packaging, and retailers demanded those changes because of consumer preferences. In contrast, roughly half of the 2014 study participants say they've implemented those changes and are satisfied with the results," Izquierdo says.
One of the most visible trends for secondary packaging, however, is its role as a retail-ready packaging medium.
Izquierdo adds, "Retailers are asking for more shelf display containers and as a result, we're seeing secondary packaging going directly from pallet to store shelf."
Changes in primary packaging are also driving shifts in secondary packaging, the report notes. Food (45%) and beverage (50%) producers noted changes such as switching flexible packaging and lightweighting primary packaging are resulting in the need for stronger support from secondary packaging.
The 2014 study also shows a decrease in RSC usage and corrugated fiberboard materials, and an increase in the use of recycled material content, overwrapped trays, and shrink-wrapped pads.
Executive summaries of both reports are available online at PMMI.org.