Published: October 28, 2014
CHESTERFIELD, MO | Mark Andy offers the Digital Series, featured at the recent Labelexpo Americas. The production-level press is said to combine highly configurable in-line converting and processing with high quality digital printing at production-level speeds.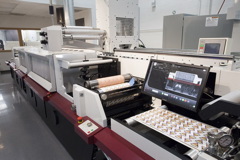 Company says the press, designed with its Business Responsive Technology, offers speeds exceeding 250 fpm (76 mpm); high-resolution, six-color process UV inkjet printing CMYKOV + W; hybrid flexo stations for top coating, metallics, cold foil and more; simple user-friendly design; and lower total cost of operation.
The exclusive ProVIEW operator platform provides access to all customized and standard system operations at a single intuitive touch-screen interface.
The company's ProWORX is a 'one box' solution said to enable superior and consistent control between the Digital Series and the digital file management used by converters. It is called the ideal DFE for a large multi-press, multi-function hybrid printing environment or as a dedicated single digital press operation.
The digital printing module is designed to be upgradable, allowing for it to be upgraded or simply switched out and replaced.
The Digital Series offers a number of in-line options, all end-to-end, roll-to-roll. The hybrid system incorporates full-color inkjet technology with traditional flexographic printing, rotary screen, foil stamping, die-cutting, lamination, and more.
This email address is being protected from spambots. You need JavaScript enabled to view it.