Published: October 21, 2014
ST. LOUIS, MO | Mark Andy Print Products, the supplies and consumables division of Mark Andy Inc., announces the addition of Softprint Secure plate mounting tapes from tesa tape to its offering of pressroom products.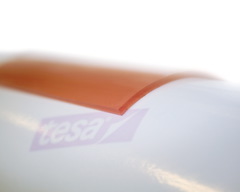 Softprint Secure is designed to handle two major challenges for narrow web printers: plate lift and long run lengths. With the newly developed adhesives on both the plate roll/sleeve and plate side of the double-sided foam tape series, it is said to effectively prevent plate lift on small repeat cylinders and sleeves while maintaining a strong, secure bond. Tapes are called the ideal solution for faster printing speeds and longer print jobs and are suitable where plates are mounted with minimal seams. Securely holding down the plates leads to less edge-lifting which in turn results in less downtime and waste, company says.
A bonding agent is said to offer easy plate mounting and demounting characteristics. This SNAP-ON adhesive is patented by tesa for its unique chemical formulation.
This email address is being protected from spambots. You need JavaScript enabled to view it.