Published: September 25, 2014
ROCHESTER, NY | Durst showed the Tau LFS 330 (Laser Finishing System) UV Inkjet Digital Label Press, a complete workflow solution for digital labels and specialty packaging, at the recent Labelexpo Americas. It uses low-migration/low-odor inks developed for the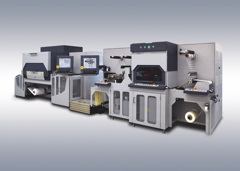 industrial label, primary food packaging, and pharmaceutical segments but said to be optimal for any application that will benefit from higher quality, precise imaging.
The Tau LFS 330 integrates a new in-line digital laser finishing system into the Tau 330 UV inkjet digital imager that prints on a 13-inch web. The addition incorporates state-of-the-art laser die-cutting technology from Spartanics and a powerful 1,000-watt laser said to deliver precise speed matching, automatic job changeovers, and a significant reduction in waste. This permits the management of multiple jobs in a single pass and virtually uninterrupted printing for previously unattainable productivity.
Company says the Tau LFS 330 achieves superior print and cut quality on a broad range of substrates, including papers, films, polyester, polycarbonates, metallized material, and more. Also reportedly offers high flexibility in terms of cutting applications, including kiss, through, perforate, engrave, mark and score. UV coating, lamination, and slitting options can be added to the system for more finishing versatility.
This email address is being protected from spambots. You need JavaScript enabled to view it.