Published: September 02, 2014
BROOKFIELD, WI | Dutch printing press manufacturer MPS will introduce its flagship EF flexo printing press to North American printers at Labelexpo Americas 2014, September 9-11, at the Donald E. Stephens Convention Center in Rosemont, IL.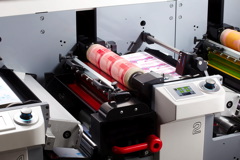 According to Denny McGee, president of MPS America, the press features a choice of either plate rolls or print sleeves and is an extremely high quality production press that features both UV and hot-air drying technology, allowing users to print diverse substrates including film, paper, shrink sleeves, and flexible packaging.
McGee says, "Our goal at MPS is to help printers excel. We listen closely to their needs and challenges and develop solutions that specifically address them. That is why we made the EF available for both plate rolls or print sleeves at moment of order."
Company says three automation features help maximize operator performance: job memory, AutoTeach technology and iStop technology. With the use of the servo-drives, all press settings are automated in the EF, which reportedly reduces set-up waste and offers simpler machine operation. AutoTeach technology enables operators to determine the desired web path, and the machine automatically teaches itself the web path being used. The iStop technology optimizes stops and starts during printing, allowing the operator to stop the machine at any point during the production run with no additional waste occurring when the press is restarted.
Press is also said to offer high print quality with patented Crisp.Dot printing technology and ease of operation.
McGee says the introduction of the EF press is the first phase in a strategy to establish a strong presence in North America. The company is also expanding its sales presence with more demonstration sites, local assembly, and service presence by expanding the geography of its service providers. The effort is being led by McGee and Kees Nijenhuis, VP of North American operations. They are joined by Eric Vandenberg, who is responsible for sales in the western US. MPS America is headquartered in Brookfield, WI.
The company also reports that MPS Latin America is expanding its sales organization into the Colombian and Andean regions.
This email address is being protected from spambots. You need JavaScript enabled to view it.