Published: August 25, 2014
GORHAM, ME | Montalvo Corp., international specialists in web tension control, announces the XR Pulley Load Cell. Part of the company's X Series of load cells, the XR can be fully customized to a customer's specifications, including pulley size, profile, material, and load rating.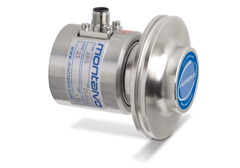 The XR can also be designed to utilize an application's existing pulleys, reportedly making it a cost-effective drop-in component for tension sensing functionality. A dual parallel beam, mechanical variance compensation, and 360-deg overload protection ensure high performance and a long service life, company says.
President Ed Montalvo says "The XR provides customers a perfect mix of versatility, functionality, and performance. It is a highly cost-effective way for customers to add tension measurement to their new or existing applications while ensuring it is built to precisely meet the needs of their application. …the XR is a key component in increasing the productivity and end product quality of applications utilizing pulleys."
Additional features of the XR Load Cell include the following:
• 100% stainless steel body
• High signal sensitivity
• Fully customizable
• Accepts existing pulleys
• Mechanical variance compensation
• Full bridge
• Multiple mounting options & load ratings
This email address is being protected from spambots. You need JavaScript enabled to view it.