Published: August 04, 2014
MADISON, WI | AccuWeb will introduce the EVO 150 24 VDC web guide controller at Labelexpo Americas 2014, September 9–11, at the Donald E. Stephens Convention Center in Rosemont, IL.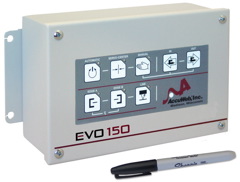 The controller features 150 watts of power and has the ability to control brushed and brushless actuator motors in what is said to be the industry's smallest package to date. At the heart of the new system is a small control module measuring just 6.5 x 4.5 x 1.5 in. with EtherNet/IP communication protocol for convenient uploading and downloading of guide system settings and performance parameters.
The control module can be mounted in an EVO enclosure measuring 7 x 5 x 4 in., including one with a flush-mounted, switch-pad HMI panel on the face, or din-mounted in an existing control panel. The EVO 150 is compatible with most of company's existing web guide systems.
This email address is being protected from spambots. You need JavaScript enabled to view it.