Published: July 31, 2014
ROCHESTER, NY | Panini America, a sports and entertainment collectibles company, has adopted the KODAK Brand Protection Solutions extendable software platform to support its new customer rewards program. With the launch of the Panini Rewards Program, trading card and memorabilia collectors can now gain points when they purchase and trade these collectibles.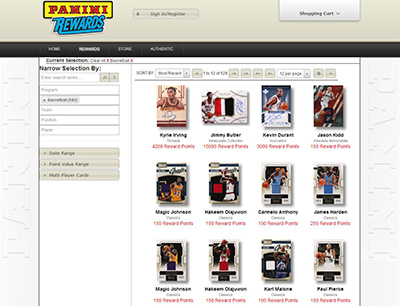 "The Panini Rewards platform gives collectors the ability to collect points and use them on an industry-first platform to collect trading cards and other items from their favorite teams and players," said Jason Howarth, VP of marketing at Panini America. "We're happy to have worked with Kodak to deliver this first of its kind to the trading cards and collectibles community."
Specifically, the KODAK Brand Protection Solutions team worked with Panini America to:
Implement a high-resolution image-capture station giving collectors the ability to view memorabilia and autograph cards
Implement a website designed to enhance collectors' customer rewards experience

Develop a mobile app
Pablo Biggs, director of brand protection solutions at Kodak, said, "Panini America has been one of our valued customers for years, so we were eager to help them create and launch this program that's such a big win for their customers."
Panini has been a Kodak customer since 2008. Kodak has provided ultracovert brand protection solutions for the high-value collectable trading card line for the past six years. More recently, Kodak's software and consulting teams have been working with Panini to create this online web-based hub for members. The system not only offers security for the Panini brand, but for consumers as well. Future Rewards Platform enhancements will give collectors the ability to self-authenticate their trading cards and eliminate issues related to potential counterfeit trading cards on the secondary market.
Kodak offers brand protection solutions that can be integrated directly into the production and manufacture of the collectible items themselves. Solutions range from visible overt identification or codes to ultracovert KODAK TRACELESS Markers and Readers. Merchandise can be protected and authenticated so that it retains and increases in value over the collectibles' lifetime.
To learn more about Kodak's full line of brand protection solutions, visit www.kodak.com/go/brandprotection.