Published: July 29, 2014
WESTERLY, RI | Maxson Automatic Machinery Co. offers what is said to be an operator-friendly, flexible sheeting line that can convert paper grades at high speeds, requires minimal set-up time to address short orders, and delivers press-ready skids that need no additional attention.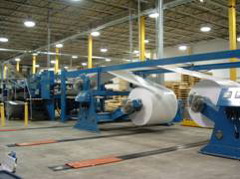 The compact MDH sheeter is a dual-knife rotary cutter that can be equipped with productivity enhancement features. Low-inertia knife cylinders allow high speed on short cutoffs yet permits knife loading to 1,000 lbs/3,300 ft2 (800 g/m2). Speeds to 1,300 fpm (396 mpm) can be achieved.
In a paper converting application, when outfitted with two dual-position roll stands, web flow into the sheeter is supported by an overhead web carrier system. Low-inertia carrier rolls support individual webs from each unwind position to the cutter. The carrier rolls keep the webs separated, reportedly minimizing static buildup and wrinkles caused by "gathering" points.
By using the "tapes over pile" feature, high speeds and quality stacking can be realized on light weight grades, company says. Tapes within a unifying framework extend from the slow speed tape section, over the pile to the front stop assembly of the stacker.
This email address is being protected from spambots. You need JavaScript enabled to view it.