Published: July 09, 2014
HOD-HASHARON, ISRAEL | Clifton Packaging Group Ltd. has installed a next-generation 100% solution for in-line process control and quality assurance on its latest equipment upgrade: an EVO XG8 HD printing press from Flexotecnica. The inspection solution, PrintVision/Argus, has been supplied by Advanced Vision Technology (AVT) Ltd.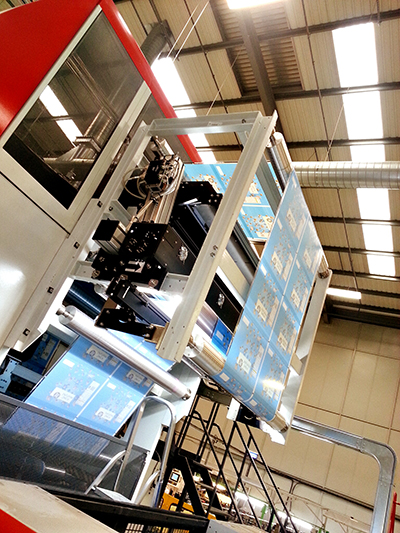 Featuring a flexible design that supports high-performance operation on any sort of web substrate, AVT's PrintVision/Argus employs a unique combination of line scan vision technologies affording unsurpassed in-line process control and quality assurance. When mounted on presses, PrintVision/Argus provides print defect detection by finding, notifying, and recording a variety of fault types, including misprints, color variations, plate problems, hazing, mis-registration, spots, and splashes. The system then tags and tracks found defects for downstream removal.
During production and throughout finishing stages, PrintVision/Argus ensures early detection and traceability of all critical print production defects, thereby significantly reducing waste and related production costs. The resulting increase in press productivity and utilization translates to a rapid return on investment for print manufacturers.
Other features of AVT's PrintVision/Argus include:
pRegister, an automatic register pre-setting and control (closed loop) module that, through printed targets and a communication link to the press, closes the loop and automatically sets color plates into registration.
iReg, a semi-automatic registration makeready for central impression flexo printing presses that allows any existing printed element on the web—such as micro dots for plate mounting, registration crosshairs, and color patches—to be used for expedited registration.

IDEal, a DeltaE measurement module that performs in-line color measurement of specific, pre-defined color areas on the repeat. Operators can set areas of interest in the repeat or at Color Bar area.
The decision to install AVT's PrintVision/Argus is based, in part, on the two companies' longstanding relationship: Clifton Packaging utilizes AVT's PrintVision/Jupiter automatic defect detection solution on each of its printing lines. Clifton Packaging has been pleased with the AVT solutions' ease of operation, premium inspection capabilities, and reduced instances of time-wasting false alarms, as well as the expertise and prompt availability of AVT support staff.
"The new high-definition press positions Clifton Packaging at an even higher level of achievable printing quality, efficiency and overall output," said Tahir Sheikh, production director for Clifton Packaging Group. "For the new line, AVT's PrintVision/Argus was a natural choice for in-line process control and quality assurance, providing a next-generation press with unparalleled inspection sophistication."
The Flexotecnica EVO XG8 HD Printing Press features a bevy of market-leading technologies, including an automated impression setting system (AIF) that, together with zero speed register adjustments, can set impression and register in under 100 meters to reduce set-up waste. The press also has pipeless doctor blade chambers with patented profile design for maximized printing speeds and enhanced doctoring performance and dot reproduction.
Additionally, the EVO series of machines incorporates energy-efficient motors and enhanced drying tunnel efficiencies, which reduce carbon footprint while maximizing productivity and sustainability. The press also can print with water-based rather than solvent inks, considerably reducing emissions and eliminating regulatory constraints.