Published: May 15, 2014
WILMINGTON, DE | DuPont Packaging Graphics reports it has installed its newest DuPont Cyrel DigiFlow 2000 EC flexographic exposure system at Color Ad Packaging Ltd., a supplier of flexible packaging. The visual impact that the new system enables has allowed Color Ad to convert lower volume gravure printing projects to flexography, providing cost efficiencies in addition to maintaining the high quality standards its customers have come to expect.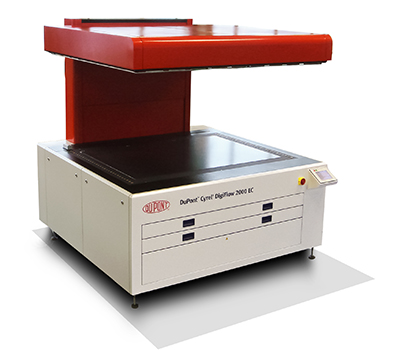 The Cyrel DigiFlow 2000 EC flexographic exposure system allows users to quickly switch from a standard digital workflow to a flat top dot workflow with the press of a button for improved print quality. Cyrel DigiFlow optimizes the benefits associated with solid screening programs and delivers improved solid ink density and 1:1 image reproduction without additional platemaking steps.
"Business is bursting at Color Ad—we've nearly doubled in size over the past year, and incorporating new technologies is key to continuing this trajectory," said Rob Turner, print operations manager, Color Ad. "We have been working with Cyrel systems for about ten years and find they represent the best balance of quality, productivity, and sustainability. The latest combination of the Cyrel Digiflow 2000 EC, Cyrel FAST plates and the ability to create flat top dots is taking print quality to a new level. DuPont and Color Ad share a passion for quality, and it shows in the final product."
The support and training provided by the DuPont team was instrumental to ensure success on the project. In person and webinar-based training programs helped the Color Ad team get comfortable with the new system and optimize their printing results.