Published: May 08, 2014
CHICOPEE, MA | Webex, a supplier of cooling rolls and mandrels for the web handling industry, will increase its capability to manufacture, refurbish, and repair carbon fiber bridge mandrels for hydraulic mount flexographic presses. This includes carbon fiber bridges for W&H and F&K presses.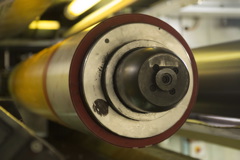 Historically a NimCor product, Webex bridge mandrels will be refurbished and repaired in the company's Magnat Fairview division to leverage recent investments in its carbon fiber winding operations. If not repairable, new carbon fiber bridge mandrels reportedly can be manufactured to original specifications. The product line will also include carbon fiber print cylinders.
"We are proud to provide carbon fiber manufacturing and repair to printers in the Americas as an alternative to overseas pricing and lead times," says Don Chapin, sales manager—Roll Products. "Newly allocated space and resources at the Magnat Fairview facility will allow us to further improve this offering."
Company says in-house carbon fiber manufacturing allows it to control every aspect of the production and repair of bridge mandrels and print cylinders and making it a reliable resource for printers who need replacement rolls quickly and efficiently. In addition, Magnat Fairview engineering and manufacturing teams will be able to transfer their experience in the production of chill rolls and idler rolls to this new product line.
This email address is being protected from spambots. You need JavaScript enabled to view it.