Published: May 06, 2014
BOXMEER, NETHERLANDS | McLoone, the La Crosse, WI, supplier of industrial labels, decals, and nameplates, has installed a SPGPrints DSI UV-inkjet label press in order to bring about production efficiencies and penetrate the mid-run self-adhesive decorative label market.
Keith Rosenthal, VP of manufacturing at McLoone, comments, "We sought a solution that would reduce costs and setup times when printing runs from just a few hundred units, and give us the necessary productivity to compete for orders of up to 250,000 labels. SPGPrints' DSI press was the perfect choice thanks to its robust, ergonomic build, modular design, and ability to deliver controlled quality on a wide range of plastic substrates."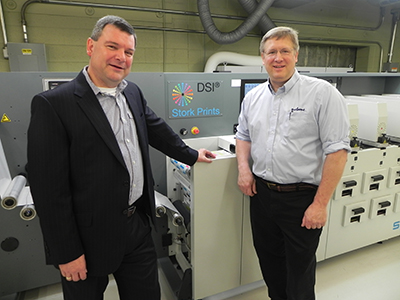 SPGPrints—formerly known as Stork Prints until November 1, 2013—custom-built a 13-in. (330-mm)-wide version of the DSI for McLoone as a standalone printer with CMYK plus opaque white. With speeds of up to 114 fpm (35 mpm), the DSI will be responsible for 25% of McLoone's production, approximately half of the company's flexible material output.
The first large-scale roll-to-roll printer in the company's 60-year history, the DSI offers a leaner and shorter workflow than McLoone's existing flat-bed screen printing and thermal transfer machines.
"The DSI has given us new levels of flexibility," says Mr. Rosenthal. "We can print all colors in a single pass, eliminating the logistically intensive task of printing each color on a separate machine, and reducing the production steps from 30 to just six. We can run 20 micro-runs consecutively in less than an hour, whereas before on a screen press, this workload would have taken three days."
The high specification of the press and the performance of SPG's proprietary UV inks also influenced McLoone's investment decision. At present, McLoone's DSI system prints on exclusively plastic substrates, including polycarbonates, vinyl, polypropylene, and polyethylene, between 0.002 in. (51µm) and 0.01 in. (254µm) thick. The DSI's chill drum, which comes as standard, ensures these heat-sensitive substrates remain at a constant, cool temperature, eliminating the risk of material shrinkage, and ensuring stability through the print process.
With their high chemical and scratch resistance, and BWS-7 light fastness values, the DSI's UV inks are able to match the resilience, white opacity, and quality consistency of screen print, which has been the main process employed at McLoone. "A large proportion of McLoone's DSI-printed work is identification products, such as nameplates and warning labels, for electronic goods, including kitchen and garden appliances. It is vital that the label graphics last the lifetime of the products they adhere to. This can be many years, during which they must withstand abrasion, sunlight, and sometimes, extreme outdoor conditions," says Rosenthal. "We exposed SPGPrints' inks and the substrates to numerous substances, from foodstuffs to aviation fuel, as well as accelerated weathering tests. The excellent test results gave us the assurance that the DSI and its inks could meet the most demanding customer expectations."
McLoone carries out numerous finishing operations, such as lamination, embossing, doming, and die-cutting, offline. However, thanks to the DSI's modular design, the company's standalone version can be retrofitted with any AB Graphic International semi-rotary converting equipment, including laser die-cutting and up to six additional colors, at a later date.
Lynn Krenz, McLoone's marketing manager, comments, "Thanks to the DSI's modularity, we have the freedom to expand according to our market needs, as our circumstances change, at a time that is right for us. We can respond to demand for a wider color gamut by adding orange, violet, green, or spot colors. The possibility of integrating a primer, or die-cutter, for instance, could help us diversify into printing on paper facestocks."
That modularity extends to the integration of workflow software. Esko DeskPack workflow integrates smoothly with the company's management information system, but the team can expand their software options if required.
The installation is opening new market opportunities. McLoone has strengthened its reputation as a supplier of quality-compliant industrial and safety labels by receiving Underwriter's Laboratory accreditation for labels printed with Flexcon film on the DSI. Digital technology also brings the ability to print sequentially serialized information, increasingly demanded by OEM manufacturers.
The switch from flatbed screen to the DSI is also beginning to deliver further cost efficiencies. The process allows use of a significantly lighter liner and has limited facestock waste to the start-up phase. It has also led to reduced tooling costs. Lynn Krenz comments, "The DSI label printer delivers both the outstanding quality our customers have come to expect, as well as a lean, efficient workflow. The added flexibility this brings makes us well-placed to expand into the market for short and medium-run self-adhesive decorative labels."
This email address is being protected from spambots. You need JavaScript enabled to view it.