Published: May 06, 2014
SLAGELSE, DENMARK | Nilpeter A/S reports the Dutch, family-owned label converting company, Decolabel BV, has invested in the new FA-4*. It is the company's fourth Nilpeter press. Decolabel is one of three converters in the Netherlands that has chosen to invest in the new Nilpeter flexo printing press, launched at LabelExpo Europe 2013.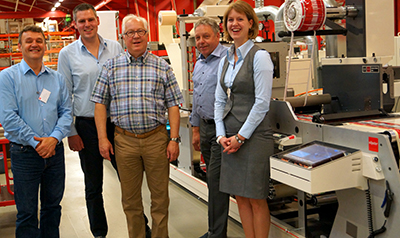 Decolabel was founded by Chris Dekker in 1989. Back then, the company produced packaging material, and it was not until 1995, that Decolabel began specializing in self-adhesive labels. Within the past couple of years, the company has expanded its reach: 50% of the production is exported to neighboring countries. Last year, Decolabel experienced a 22% growth in business, which called for an expansion in production equipment.
The FA-4* to be installed at Decolabel's facilities in Roosendaal is an eight-color press with GEW UV-drying, four hot air dryers, a double die-cutting unit, and a cross-over unit. "The performance of the Nilpeter FA-4* allows us to increase our production speed considerably, due to very fast job-changes, while at the same time maintaining the high quality products at competitive prices for which we are known", says Leander Dekker, production manager at Decolabel.
"The experience we have with the reliability of Nilpeter presses is such that it was a no-brainer for us to invest in yet another," Leander Dekker explains. "Our oldest Nilpeter press turns 19 years old this year—and it is still running like the wind!
"With this new acquisition of the FA-4*, we fortify our commitment to our top priorities: speed, accuracy, and customer satisfaction," Leander Dekker concludes.
This email address is being protected from spambots. You need JavaScript enabled to view it.