Published: April 17, 2014
STUTTGART, GERMANY | Flint Group Flexographic Products announces the nyloprint Flowline Washer DW 100 and the nyloprint Flowline Washer DWT 65, said to offer high productivity and reliability in processing premium quality photopolymer printing plates.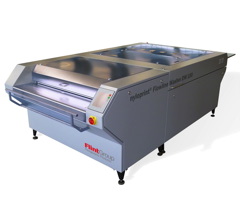 The Flowline Washer DWT 65 is designed as a compact, tankless flowline system for processing water washable printing plates, where washout, rinsing, drying, and UV-A post exposure are all done automatically in line. The combination is suitable for processing printing plates to a maximum width of 650 mm (25.6 in).
With the new Flowline Washer DW 100 is a compact tankless flowline washer that can be used to process printing plates to a maximum width of 1,000 mm (39.4 in). It is said to be suitable in combination with the nyloprint Combi 96x120 ED, a system for main exposure, drying, and post exposure of photopolymer letterpress plates that is especially appropriate for security printers.
Both washers are equipped with direct water supply to minimize the level of contamination in the washout section, reportedly reducing downtimes due to maintenance cleaning. Additional advantages are said to be excellent functional safety and a long service life.
This email address is being protected from spambots. You need JavaScript enabled to view it.