Published: April 03, 2014
ST. LOUIS, MO | Mark Andy hosted more than 200 visitors last week at its 2014 Open House. During the three day event, attendees were treated to converter-focused educational forums, the highlight being an interactive panel discussion titled, "Flexo and Digital—What's the right mix?" Three different converter-filled panels over the three days provided accounts of individual experiences and business models around implementation of both flexo and digital technologies.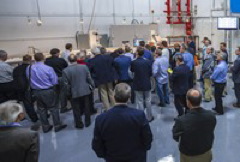 Daily live demonstrations covered the optimization of end-to-end flexo workflows, encompassing a broader look at the entire press room operation. Rotoflex finishing equipment, Mark Andy Print Products, and Mark Andy University delivered a well-rounded look at how converters can renovate their operations from every angle.
The event featured the live debut of the Mark Andy Digital Series, described as an integrated hybrid inkjet printing platform. Designed with Business Responsive Technology, the Digital Series is said to combine highly configurable in-line converting and processing with high quality digital printing at production-level speeds.
"The Open House week was a tremendous success" says Kevin Wilken, president and CEO of Mark Andy. "It was exciting to welcome so many interested visitors and to showcase the 'new' Mark Andy as a Total Solutions Partner. We had good, informative sessions to help converters grow their business and understand technology. And the live demos allowed visitors to understand the various product lines and services, and how they might apply to their own workflows and business practices."
This email address is being protected from spambots. You need JavaScript enabled to view it.