Published: February 20, 2014
LONG BEACH, CA | Epson America Inc. reports Middleton Printing, a Michigan-based family-owned label printing company, installed the Epson SurePress L-4033AW label press to provide its manufacturing, publishing, retail, political, and food industry customers with high quality labels. Middleton Printing purchased the inkjet digital label press to expand from its flexographic production services.
[Watch a one-minute time lapse video of the 8-hr installation here.]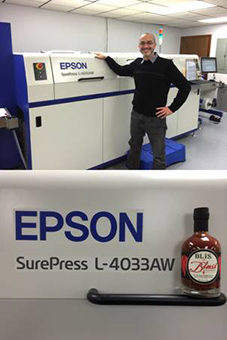 "The SurePress seemed like the right technology to shift most of our flexographic production to digital. After doing much research, looking at competitors, and comparing print samples, we were convinced that Epson and the SurePress were the right fit for Middleton Printing," said Steve Middleton, president. "What set the SurePress apart from competitors was its reasonable price, reliable performance, and world class quality. It truly was a positive experience when the actual use of the digital press exceeded my expectations. After installation, I also found Epson's support to be second to none."
Designed for prime label converters and commercial printers, the Epson SurePress L-4033AW is an easy to operate seven-color inkjet digital label press with white ink that makes high quality, short-run label printing easier and more efficient, even on clear and metallic substrates.
"The Epson SurePress is truly a hands-off machine. Once a job is set up to run, we can walk away, do other things and be more productive," said Middleton. "Additionally, the digital workflow and the quality of the SurePress has definitely saved us time and empowered us to produce our labels with consistent quality and better ink durability than flexographic, and at a price where we actually experience profitability. We are able to print on a variety of textured substrates and our customers are extremely satisfied with the image quality produced by the SurePress."
Among those customers is gourmet food producer, BLiS, who uses Estate 9 uncoated stock for its Blast Hot Pepper Sauce. "Since the creation of our unique hot sauce requires a time intensive process, we found it important to use a label that would help to illustrate the quality and unparalleled taste of Blast," said Steve Stallard, owner of BLiS. "Middleton Printing has helped us to do just that, by providing us with labels with great image quality, produced by the Epson SurePress digital label press."
"With the ability to print high quality digital labels with accurate spot color matching on various substrates, the Epson SurePress L-4033AW allows more flexibility for a productive and profitable workflow," said Mark Elsbernd, North America region sales manager, Epson America. "We are pleased to provide printing technology for label printing companies like Middleton Printing, who are looking for a digital printing solution."