Published: February 13, 2014
WESTERLY, RI | Maxson Automatic Machinery Company has developed an air delivery system said to improve the pile quality on a sheeter's stacker. The design improves the "press readiness" of the stacked sheets by floating the cut packets out into the stacker's jog box, supporting the delivery of long or light weight sheets and overcoming static buildup inherent in the overlapping delivery process.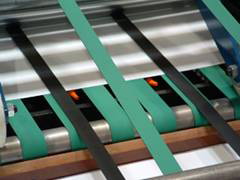 Compressed air is introduced between each cut packet in the slow speed section of an overlapping delivery system. The delivery nozzles, which can be positioned as required, injects a steady stream of air above the tail end of the first packet and underneath the following, overlapped sheet. In this manner, a "blanket" of air is established between sheets prior to reaching the stacker.
The operator controls the volume of air via a hand valve located near the stacker, which allows monitoring of the pile quality. Typically, the air flow is maintained to allow the cut packet to slowly fall to the top of the pile, allowing maximum opportunity to jog the sheets into place.
This email address is being protected from spambots. You need JavaScript enabled to view it.