Published: February 06, 2014
ROCKFORD, IL | Flexiprint, a manufacturer of tea bag tags and envelopes in Sri Lanka, has confirmed further orders for Martin Automatic MBS unwind/splicer and LRD rewinder technology. The new Martin machines, which will be installed at the company's production facility in Colombo, will be the fifth and sixth since Managing Director Sathis Abeywickrama first decided to fit an LRD to his Gidue Combat press in 2005.
Commenting on his choice of equipment, he stated, "We were the first in Sri Lanka to install an LRD, and the first with an MBS, and this has all been based on Martin's reputation for reliability in hardworking commercial environments. We convert around 4,000 metric tons of paper and board each year, and our inline production system is geared towards zero waste."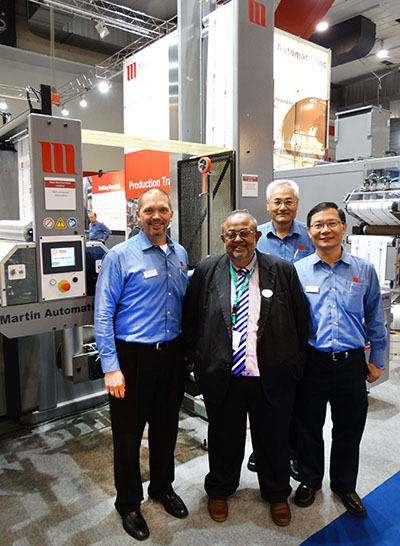 Flexiprint was founded in 1993 to supply the added value tea bag and envelope market that was growing rapidly in Sri Lanka at the time. Preferring flexo to gravure printing, for its better ability to handle a variety of work, and in the process becoming the first tag converter in Sri Lanka to use water-based inks, Flexiprint began printing with an eight-color seven-in. Propheteer, and won an FTA Print Award in its first year of operation. Five more Propheteers followed as production increased to keep pace with demand before the company switched to 14-in. Gidue lines to improve productivity and quality—it now has six Gidue presses installed.
As the company moves from strength to strength—it is currently enjoying a 12% year-on-year growth and now has the capacity to produce 80 million tags/day—Abeywickrama points to an export business that has grown to make it market leader, with a major share of the Dubai and Saudi Arabian markets, as well as a growing share in Australia, New Zealand, Malaysia, India, Pakistan, Yemen, and Papua New Guinea.
With a quality portfolio of clients to keep satisfied, and ISO 22000:2005 accreditation to maintain, Flexiprint's staff of 220 needs to be able to rely on the technology in its plant. Abeywickrama explained, "We believe Martin roll handling is the best on the market and its MBS and LRD machines allow our Gidue presses to reach their full potential."
Claiming a reduction in waste of 20% or better, and less downtime on press since the Martins were installed, Abeywickrama describes them as "unbreakable" with minimal requirement for service and none for spare parts. "I have no hesitation recommending Martin Automatic to anyone doing long runs with special substrates —the technology has no learning curve because it is not unnecessarily complex, like some of its competition!"
This email address is being protected from spambots. You need JavaScript enabled to view it.