Published: July 02, 2013
ROCKFORD, IL | Martin Automatic Inc. was selected to supply the automatic roll change equipment on the new full servo flexographic press from Aquaflex/PCMC.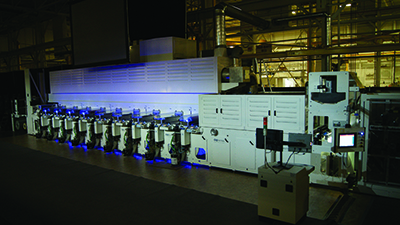 The new ELS Max press features an automatic butt splicing unwind and automatic transfer rewind by Martin. The MBSF-LTD splicer is engineered with driven spindles to unwind and butt splice a variety of film webs as thin as 0.5 mil (12 microns) at full press speed. The LRD rewind gives the press non-stop roll-to-roll production capability and offloads printed rolls automatically to a skid for shipping.
The first ELS Max press, rated at 28 in. (710 mm) web width and 1,000 fpm (300 mpm) running speed, was previewed in January at PCMC's iMpact 2013 open house in Green Bay, WI, before installation at the customer's facility. A second set of Martin Automatic splicer and rewinder is on order for an identical press to be delivered to the same customer in summer 2013.