Published: April 17, 2013
STUTTGART, GERMANY | To provide perfect and high quality work, to be reliable and always open for progress, as well as to be customer-focused—this is the corporate philosophy of Hans-Joachim Heinerich GmbH. The company, which is located in Pleidelsheim, close to Stuttgart, is primarily specialized in the production of flexo clichés for corrugated postprint. In addition, they also offer a complete range of flexographic printing plates as well as service in prepress and mounting.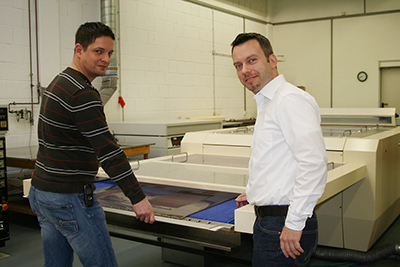 Founded in 1968 by Hermann Heinerich, the family business is now led in the second generation by Hans-Joachim Heinerich. Fifty employees offer a competent and professional service around corrugated postprint. The innovative enterprise is a leading one in its industry sector and serves customers throughout Germany and the neighboring European countries.
Hans-Joachim Heinerich GmbH and Flint Group Flexographic Products have been working closely together for almost a decade. In particular, Heinerich appreciates the excellent service and the outstanding technical expertise it receives from Flint Group's employees. Speed and proximity to customers also plays a central role. "The close cooperation is essential for us; for each question and for each problem there is a contact person, right away" explains Walter Schadt, operations manager at Hans-Joachim Heinerich GmbH, "and if we order today before noon, the products will be delivered by tomorrow. This is exactly the kind of service that we want."
As a top modern company, Heinerich sets the highest priority on having the optimum technical equipment. This was the reason why it decided so quickly to install the new nyloflex Digital Washer F V. "As more and more digital printing plates are used, it was not ideal to utilize conventional washers. That's why we were really excited when the first prototype became available, and we ordered one immediately", states Steffen Botsch, head of the cliché production department at Hans-Joachim Heinerich GmbH. "The changeover has been worthwhile, and the new unit works quickly, efficiently, and last but not least is also eco-friendly."
Flint Group Flexographic Products has recently added two other premium quality systems to its product portfolio—the nyloflex Digital Washer F V and nyloflex Digital Washer F III. Both units are ideally suited for processing digital as well as for conventional photopolymer printing plates. The digital layer separation and a washout speed, which is up to 45% faster due to additional brushes, shorten the processing time significantly, thus improving productivity. Two solvent cycles reduce the contamination of the washer and enable clean processing of the printing plates. The adjustment of the brush pressure to the different plate thicknesses allows an optimized washout quality. The viscosity and temperature control device, combined with a sophisticated liquid management system, ensure consistent processing conditions and an optimized solvent consumption.
The intelligent exhaust system reduces emission rates and improves the quality of the ambient air. The automated plate-length detection system ensures minimum solvent and energy consumption. As a result, the equipment is not only highly efficient but also very environmentally friendly.
This email address is being protected from spambots. You need JavaScript enabled to view it.