Published: March 21, 2013
Future Pack, a division of ENPI Group, is a leading printing company of the United Arab Emirates and was looking for an innovative high-technology press offering short set-up times, reduced waste, and top-level register controls to renovate its current equipment.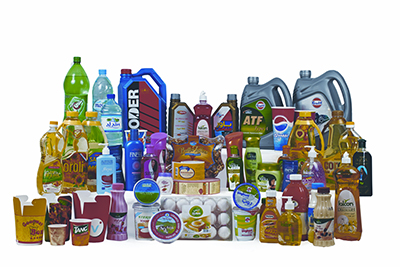 Emirates National Factory for Plastic Industries (ENPI) was founded in 1995 by the current CEO Nizar Rajoub with the aim of promoting a profitable and sustainable business as a manufacturer and printer of plastics. Over the course of 18 years, ENPI went through a radical expansion strategy and became a group of 11 renowned companies. At first diversifying its business within the packaging industry, before expanding into the security technology market, ENPI has now become the GCC's leading manufacturer of plastic packaging solutions, paper products, and technologically advanced products across multiple business sectors, and supplying to private and public sector markets, both regionally and worldwide.
The Future Pack Div. was started in 2006 with well-equipped and versatile machinery. It specializes in the printing of innovative packaging solutions on a wide variety of substrates and using multiple printing technologies to handle short to high volume orders and especially lids made of aluminum film or paper, in standard as well as customized dimensions, wraparound labels, shrink sleeves, self-adhesive labels, in-mold labels, and tags.
To manufacture premium quality products, Future Pack invests in the latest machinery of the most reputed European suppliers. Because of its export-oriented business, Future Pack must keep internal processes streamlined and efficient and follow strict procedures in order to meet international standards of health, safety, security, and quality. Furthermore, it must keep fully equipped in-house quality control laboratories that conduct tests according to the most stringent technical parameters.
But what really sets Future Pack apart from other packaging companies is its client-oriented focus that offers a designated service teamwork on each project, from concept through to completion. Future Pack serves customers in the Gulf area, Middle East, Africa, and parts of Europe offering a punctual and personalized service.
The purchase of two XFlex X6 by OMET (one 17-in. and one 20-in.) is a clear indication that the company has chosen to invest in high-end technology to improve performance and be able to satisfy the needs of demanding customers in its natural outlet markets. In fact, thanks to XFlex X6, it is actually possible to reduce set-up times and waste and handle any kind of order, from just-in-time deliveries to long print runs, with no major impact on the machine operation, which is quickly set up and ready to print.
One first ten-color XFlex X6 430 mm was installed in October 2012. So informs Chinna Durai, managing director of Future Pack: "We have already had good savings on the make-ready time and in process waste. We have also seen worthy improvement in productivity compared to the gear presses we have always worked with. We are planning to use this first XFlex for short and medium job runs and make good use of its fully automated registration, quick set-up times, and job changeover. This will help us increase savings of wastage and time and stay competitive in today's market. The XFlex will be used also for the printing of wraparound labels and shrink sleeves taking full advantage of its features of high speed and productivity."
UAE is the hub for the MENA (Middle East and Northern Africa), an enviable location, especially now that UAE market is booming again after a short slowdown. The Emirates attract international investors thanks to their modern infrastructure and for the safety and security for the business community compared to other countries in the region. Keeping in line with the market growth, ENPI Group, and Future Pack, keep their expansion pace. The company is adding another ten-color XFlex X6 530 by OMET that will be installed in April 2013 and one full color digital press with in-line finishing. The two machines will bring an additional 20% increase to the print capacity of Future Pack in 2013.
This email address is being protected from spambots. You need JavaScript enabled to view it.