Published: February 20, 2013
COLMAR, PA | Scodix today announced the installation of a Scodix S Series Digital Press at Encompass Elements, which operates facilities in two locations—Colmar, PA, and New Castle, DE. The press, purchased on the show floor at Graph Expo 2012 last October, produces Scodix SENSE, an experience that engages viewers' senses and makes the materials memorable. In just a few short months Encompass Elements is already creating sensational print with a range of effects that are creating a dramatic impact on projects ranging from high-end product launches to comic book covers.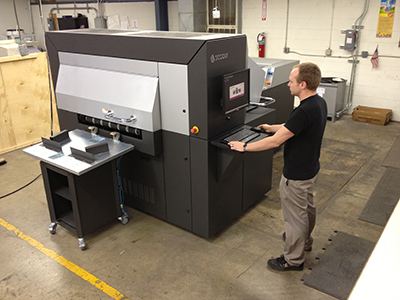 "Installation was ideal," notes General Manager Bill Scannapieco. "We were running product within a few days. Operation was almost immediate. The technical support and communications was outstanding."
Print Manager Ed Narewski agrees: "It's not difficult to learn," he says. "With our experience with digital printing it was easy to add the Scodix to our toolbox."
Investing in a Difference Maker
"We're willing to be innovative with new equipment and Scodix is one way to make an investment to differentiate us against the competition, as well as to have a value-add to offer clients," says Scannapieco. "The goal is to improve response rates for clients by giving offerings a higher quality look and feel. We can create products that leave a lasting impression. It's a technology that we feel will take off and we'll be ahead of the marketplace."
Executives at the company are always on the lookout for leading-edge solutions that will support their offerings of web and data solutions, distribution and fulfillment services, and direct mail production including personalization, lettershop, and cross-media marketing. At Graph Expo 2012, executives were so impressed with the Scodix press that they purchased it immediately and installed the press within two months. The company found that the press fit in seamlessly with the rest of its equipment.
Supporting the Digital Workflow
The company prints its projects—which range from 25 to 50,000 pieces including digital postcards, letters, and self-mailers—on digital presses including the Kodak NexPress 2100 and Hewlett-Packard Indigo 7600. "Digital presses enable us to change graphics and type on the fly," says Scannapieco. "Ninety percent of what we do is personalization. Now, with Scodix, combined with personalization capabilities, we can really enhance the impact of a client's mailing."
Using advanced inkjet technology, based on two CCD cameras and highly sophisticated mathematical algorithms, the press enhances print by adding a proprietary UV-curable clear polymer—Scodix PolySENSE—to images in differing levels of thickness and texture with the ability to scale, rotate, and place the clear polymer exactly over the color image underneath it. The tactile effects can be applied in thicknesses up to 250 microns in polymer height—more than 20 times higher than some varnishes. The Scodix press has the ability to produce up to 99 Gloss Units (GU) and variable density capabilities from 1 to 100%.
Delivering Jobs with Impact
Encompass Elements worked with a high-end watch company during the holiday season to produce a few thousand postcards created to announce the launch of a new product. Scodix enhanced the rich, sharp graphics by making elements such as the watchband and glass look real. The black and red watchband stands out with a raised, textured effect, and the metal is highlighted with another chrome-type effect. "We could have sent out the postcards with just a picture, because it's a nice picture, but when you add the Scodix to it, it adds a whole new dimension," says Narewski. "It makes the product more realistic with its touch and feel. The glass on the watch looked like glass."
For a new customer, an innovative publisher of comic books and graphic novels, Encompass Elements is creating a few thousand distinctive covers. The hand-drawn artwork on the covers is highlighted with Scodix effects that encourage viewers to touch the raised tactile elements and spend longer admiring the details. One project will be sent to existing customers and the next project will be to create the publication for bookstores so the covers attract attention on bookstore shelves.
"There isn't anything like this out there," enthuses Narewski. "You can't add quite the level of detail or texturing that you can with the Scodix. It really does open up a new look and ability to texture printed products."
Encompass Elements, whose customers include companies in the pharmaceutical, automotive, and financial industries, direct marketing agencies, colleges, and non-profit companies, expects to gain new business with its ability to enhance projects and make them more impactful. "With Scodix, we're looking to expand to high-end packaging," says Narewski. "Scodix will enhance the shelf value of commercial products."
Scannapieco is also enthusiastic about the new technology. "Scodix is an offering that is going to lead us into new revenue streams and increased growth," he concludes. "It is a major differentiator cementing Encompass Element's leadership role in the marketplace."
This email address is being protected from spambots. You need JavaScript enabled to view it.