Published: December 14, 2012
STUTTGART, GERMANY | Flint Group offers nyloflex ACE plates that are reformulated provide benefits on press such as sharper detail, high contrast images, and smoother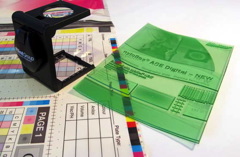 vignettes. When new plates are used in combination with the nyloflex NExT exposure technology, significant improvements are found with increased solid ink density and excellent ink laydown, as well as producing flat top dots, company says.
Plates are said to exhibit high longevity due to excellent solvent resistance and improved cleaning characteristic. Extensive field testing in more than 100 press trials worldwide reveals that fewer press stops for plate cleaning are required. The plates run longer, saving valuable time and substrate in the process. Company says the transparency of the new plates allows for easier mounting, and the plates, which are designed for solvent, water, and most UV-curable flexographic inks, remain very stable on press.
In prepress, plates exhibit a more controlled back exposure, providing an even smoother plate floor with a more consistent relief. No changes with the laser setting are required, since the plates contain the same black mask as before.
This email address is being protected from spambots. You need JavaScript enabled to view it.