Published: August 31, 2012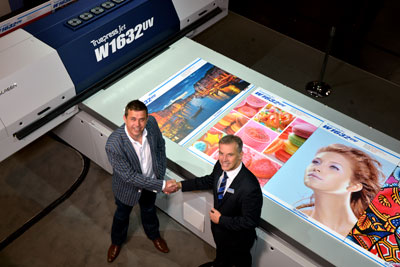 ROLLING MEADOWS, IL | The world's first-installed Truepress Jet W1632UV is already at home at Best Digital and poised to take the UK-based point-of-sale specialist into the next generation of wide-format digital printing. The latest entry in Screen's growing portfolio of high quality UV inkjet printers brings best-in-class speed and precision to display printing, allowing Best Digital to produce more print in more sophisticated formats and longer runs.
"The machines on the market were either beyond our budget or fell short on speed or quality — until we saw the Truepress Jet W1632UV," recalled Geoff Rawlings, managing director. "The Truepress Jet W1632UV is a true flatbed system, and the quality it produces is amazing."
Screen launched the innovative printing system at drupa 2012 last May. Best Digital attended the quadrennial show intent on securing a two-machine deal with the express purpose of tackling larger projects and providing reserve capacity. Best Digital succeeded in its mission. It placed orders for the brand-new Truepress Jet W1632UV, along with the popular Truepress Jet2500UV board and roll inkjet printer. Company officials expect the increased capabilities and fresh added-value products to help Best Digital double sales by 2014.
Rawlings and partner Danny Colegate founded Best Digital in 2008. Based in Welwyn Garden City, England, the company is housed in a 10,000-sq-ft space with a staff of 12 employees. It positioned itself in the niche between small digital companies and major POS suppliers, making its mark printing POS, exhibition and display graphics directly on virtually any substrate.
Best Digital operates solvent-based and dye-based digital printers. The Truepress Jet W1632UV and Truepress Jet2500UV replaced two UV units from another manufacturer.
The Truepress Jet W1632UV features Screen's proprietary Truepress inks and comes standard with six colors (cyan, magenta, yellow, black, light magenta, and light cyan). It prints at a top speed of 1,011.8 sq ft/hr on media up to 62.9 x 125.9 in. with a maximum thickness of 1.9 in. Its use of 12 picoliter microdroplet printheads enables crisp text, fine definition, and smooth vignettes. The maximum apparent resolution of 1,200 dpi ensures photographic quality on signage designed for close-range viewing.
The 98.4-in.-wide Truepress Jet2500UV proved the perfect partner for the Truepress Jet W1632UV. It can run roll-to-roll media, including paper, vinyl film, banners, and textiles. It also handles acrylic, glass, corrugated plastic, aluminum, and other rigid materials up to 1.96 in. thick. Truepress inks exhibit exceptional adhesion regardless of the substrate.
"The Truepress Jet2500UV is also fast, produces high quality work, and has the unique ability to print seven layers," Rawlings added. "Because both machines use the same inks, we can keep color consistent when we split jobs between the two."
The Screen machines are now the backbone of Best Digital's production environment. Rawlings considers them key to a business strategy grounded on market differentiation in which high-end retail projects, such as double-sided window graphics, can generate the healthy margins necessary for sustained growth.
"The combination gives us enormous versatility, as well as a trebling in capacity" compared with the devices Best Digital replaced, Rawlings said.
This email address is being protected from spambots. You need JavaScript enabled to view it.