Published: August 15, 2012
NEENAH, WI | Appleton Mfg. Div. reports its A301 automatic core cutter is an entry-level unit that offers simplified automation, intelligent control, and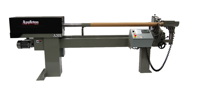 precision to help increase productivity while reducing material waste and operating cost.
Once the customizable settings are in place, the A301 automatically cuts and advances the materials with precise accuracy within +/- 0.010 in. All equipment settings can be controlled by using the A301's LCD touch screen panel.
With upgradeable features, the A301 can be equipped with automated parent and cut core handling, auto-indexing knife, extended cut-off target length, digital length measurement, and other features.
This email address is being protected from spambots. You need JavaScript enabled to view it.