Published: August 03, 2012
BEACON FALLS, CT | Vacumet Paper of Franklin, MA, (A Scholle Co.) has improved its roll quality and reduced maintenance costs with the use of Goldenrod pneumatic mechanical chucks.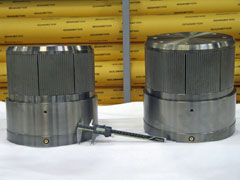 The company recently purchased and began using a pair of Goldenrod 1420-LF chucks on some of the largest, heaviest paper rolls the company treats—12-in. dia cores, supporting 8-ft wide/6-ft dia/7-ton rolls of paper. Almost immediately, the company saw an improvement in roll quality and after three months of constant use, has seen little to no wear on the Goldenrod chucks.
Coating and Metallizing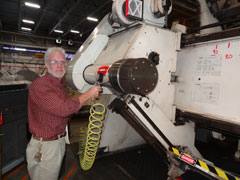 Vacumet's plant in Franklin specializes in coating, metallizing, and slitting large rolls of paper that are then shipped off to converters for use in printing food and beverage labels, as well as decorative wrapping paper and other specialty products. The company is known for producing rolls of the highest quality. "We expect quality, and so do our customers," said Steve Lynch, mechanical design engineer at Vacumet.
Lynch is a 19-year employee of Vacumet and has worked with the Maintenance Group and Machine Operators over the years on numerous performance and safety upgrades of the machines running at the Franklin facility. While he has worked with Goldenrod's shafts in the past—in fact, Vacumet has numerous Goldenrod 3-in., 6-in., and 12-in. lightweight, multiple bladder pneumatic shafts in operation in Franklin—he only recently was involved in the purchase of the company's first pair of Goldenrod 12-in. chucks. The Goldenrod chucks were recommended to Vacumet by its OEM machine vendor, Black Clawson Converting Machinery/Davis-Standard, which uses Goldenrod 6-in. pneumatic fiber core mechanical chucks on its unwinds.
"Vacumet is a company that is very much a 'let's improve' environment," said Lynch. "We are always focused on improving quality and reducing maintenance issues. When our traditional chucks weren't performing as well as we'd hoped, we decided to change."
Traditional Chuck Issues
The traditional steel chucks being used at Vacumet have "keys" that lock the chucks onto the steel core. This design can cause grinding between the chuck and the core, leading to the need for shutdown and maintenance. "In our experience, the traditional chucks need to be sent out for maintenance every 4-5 months, which requires labor and downtime. While we have avoided downtime by planning around the regular maintenance, this is still an issue and a significant cost," said Lynch.
How significant? Vacumet calculated the costs as follows.
Cost of maintenance in the potential machine locations where the Goldenrod chucks can be used:
| | |
| --- | --- |
| 24 chuck repairs/yr @ $750 | $18,000/yr |
| 300 keys/yr @ $60 | $18,000 |
| 800 key bolts/yr | $300 |
| 20 core repairs/yr @ $300 | $6,000 |
| Conservative total | $42,300 |
| Not including downtime costs | |
Lynch says that $42K/yr in chuck maintenance is only the beginning. "The wear on the chucks affects roll quality," he said. Traditional chucks can 'bounce' once they start to wear, causing 'cinching' [roll slipping between layers] and 'telescoping' [outer layers of roll sliding in or out while winding], problems that can lead to poor quality, unacceptable rolls. The bouncing also causes problems with the in-line web splicing at full speed. This is where really serious cost and quality issues can occur."
Goldenrod Chuck Benefits
In the more than three months since Vacumet installed its first set of Goldenrod pneumatic mechanical chucks, the company has already seen significant quality and maintenance improvements.
"In a word, the Goldenrod chucks have been awesome," said Lynch. "They arrived machined perfectly from Goldenrod; they 'hit their numbers,' the specified dimensions were right-on. They are clearly quality products, and they have provided us with the highest performance."
So far, Vacumet has seen zero maintenance issues with the Goldenrod chucks, and the company also has seen its roll quality improve. "When you're coating and metallizing seven-ton rolls, the machines need to be within tolerance," said Lynch. "Precision rewind of these rolls is a huge advantage with the Goldenrod chucks – they have already paid for themselves."
More to Come
Because of the improved performance provided by the Goldenrod chucks, Vacumet already has another set on order. The company plans to further incorporate these chucks into the slitting portion of its operations. Because of Goldenrod's highly competent technical service, Vacumet has complete confidence in the company's products, according to Lynch.
"Phil Pretto of Goldenrod was instrumental in helping us get the most out of these chucks", he said. "He, and the internal support people at Goldenrod, have done a great job of following up and are genuinely concerned that their products are operating properly. We greatly appreciate their support."
This email address is being protected from spambots. You need JavaScript enabled to view it.