Published: July 27, 2012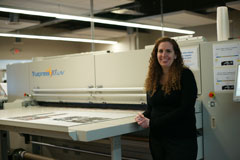 ROLLING MEADOWS, IL | Franklin Imaging has been a fixture in the graphics community of Columbus, OH, for at least 80 years. Franklin Blueprint & Supply, as the company originally was known, was among the city's first reprographic houses. The name change came about in 1998 with a change in ownership and a broader focus on electronic document management and digital imaging.
A member of the ReproMAX network, Franklin Imaging serves the large-format reproduction needs of the architectural, engineering, construction, and manufacturing industries. The reprographic printing environment paved the way for an expansion, in 2009, into large-format color printing.
"Franklin Imaging entered the world of large-format color printing in a move to diversify our business," said Emily Williamson, president. Williamson played an integral role in developing Franklin Imaging's color business. Her father, Joe, and a partner purchased Franklin Blueprint in 1998. Emily joined the company that same year with an academic background in business — she earned a Master of Business Administration degree from Ohio State University — and accounting. She worked up through the ranks in administrative and sales support, accounting and operations. In 2006, she became the company's majority owner.
When it was time to upgrade from its first direct-to-substrate flatbed printer, Franklin Imaging researched printing systems that could reduce turnaround times and improve quality.
"We spent more than 18 months comparing inkjet systems before choosing the Truepress Jet2500UV," Williamson recalled. "We were extremely impressed with the sales support before and after the initial purchase. Our sales representative went to great lengths to provide print samples, demonstrate the product versatility of the device and explain the various market opportunities we could pursue as a result of installing the Screen equipment."
Franklin Imaging installed the Truepress Jet2500UV last December, and it already has opened up new channels of revenue with Franklin Imaging's traditional customers.
"We discovered that many of our customers in the architectural, engineering, and construction fields required color printing for signage, decals, and other products," Williamson said.
In addition to printing on roll-fed paper, vinyl film, banners, and textiles, the Truepress Jet2500UV easily handles acrylic, glass, plywood and aluminum.
"Truepress UV inks have much better adhesion properties on substrates than we were accustomed to," Williamson said. "The inks do not flake or crack."
One area that has taken off for the 40-employee firm involves using the Truepress Jet2500UV to print multiple layers of ink to achieve different special effects. The Truepress Jet2500UV prints up to seven image layers without feeding the media a second time through the machine.
"Multilayer printing is an important feature for us," Williamson said. "Designers and ad agency clients are promoting this capability to their customers. There is a lot of interest in double-sided window clings. Printing multiple layers of ink, including white ink, on clear substrates allows us to produce double-sided window clings with no show-through."
The increased ink thickness also creates raised images, which has caught the attention of a local university. "We have a huge project that entails replacing all of the evacuation maps on university property," Williamson said. "The maps contain custom Braille work. I'm not aware of any other printer that is offering custom Braille printing."
This email address is being protected from spambots. You need JavaScript enabled to view it.