Published: May 04, 2012, By Yolanda Simonsis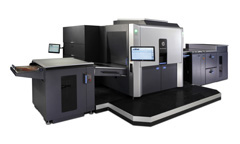 DÜSSELDORF, GERMANY | Making an impressive announcement from drupa2012, HP Indigo reports its first 10000 sheet-fed digital press in the B2-format, measuring 29.5 x 20.9 in., has been sold to specialty packaging converter Wing Hung, headquartered in Hong Kong. The press will be installed in its Dongguan, China, facility in late 2012, and the firm will become the first beta user of the new platform which HP Indigo just introduced at the drupa tradeshow, May 3—16.
"We treasure this opportunity to be the first beta site for the HP Indigo 10000, as well as the trust and respect being given to us," said John Lau, chairman, Wing Hung Group. "Having the B2-format size opens up many more opportunities for us in terms of efficiencies and new jobs that presently cannot be produced on digital presses."
Wing Hung's agreement to install the press follows a rapid transition into digital printing with HP Indigo technology. The company provides specialty packaging solutions, including rigid and folding boxes, insert cards, special edition packaging, personalized photo products, high-end greeting and scented cards.
To make its supply chain offerings more efficient, Wing Hung installed two HP Indigo digital presses in 2009. Over three years, the company has installed six more, including the first HP Indigo 7500 digital presses in Asia.
It's reported that the new HP Indigo 10000 matches the common B2-format on many of Wing Hung's analog offset presses, enabling quick re-routing of jobs from offset to digital production for fast turnaround on urgent jobs. With approximately twice the productivity of current HP Indigo press models, the HP Indigo 10000 is expected to help Wing Hung use digital printing for more applications.
Wing Hung expects the following production advantages with the new press:
A decrease in labor and costs by eliminating prepress and make-ready time
Cost savings on warehousing and shipping by printing on demand
Environmental impact reductions related to make-ready waste and disposal of printed, warehoused products that become obsolete before use
Additional 10000 Sales at drupa
HP Indigo also announces from drupa on May 7 that St. Louis, MO-based Consolidated Graphics (CGX), a commercial print service provider, has purchased ten HP Indigo 10000 digital presses. CGX plans to install the presses at locations throughout its 70-company network when the HP indigo 10000 becomes commercially available in early 2013.
In addition to this ten-press purchase, Nies/Artcraft, a CGX company specializing in high-quality, targeted direct marketing services, will be a beta user for the HP Indigo 10000, receiving an early production unit later this year.
Press Availability & Capabilities
As noted, the new 10000 press will be commercially available outside of these installations in early 2013, printing up to 3,450 sheets/hr in four colors and up to 4,600 sph in Enhanced Productivity Mode. The HP Indigo 10000 also combines offset-matching print quality with up to seven-color printing and duplex and substrate flexibility. Printing on more than 2,500 media currently certified for use on HP Indigo sheet-fed presses, the 10000 model is claimed ideal for many high-quality applications, including commercial printing, photo merchandise, publishing and direct mail.