Published: May 03, 2012
CHARLOTTE, NC | The Phoenix Challenge Foundation (PCF) recently celebrated 15 years of support for the education of flexography and graphic arts during its High
School Skills Competition at the Harper National Flexographic Campus of Central Piedmont Community College.
First-place was awarded along with $1,000 scholarships to Sharon Mai and Daniel Langsford of the Gordon Graydon Memorial Secondary School, Mississauga, ON, Canada. The pair won the first place award by earning this year's highest combined scores in the contest's five exams: written knowledge, math, prepress proficiency, press operation, and platemaking. In addition to the scholarships, the winning team took home the Harper Flexo High School of the Year trophy cup, for display at its school.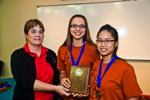 Second place went to Li-Anne Chang and Elina Shafiguluna, also from Gordon Graydon Memorial Secondary School. Third place went to Jada Martin and Vincent Frank of Fairfield Fairfield Career & Technology Center, Winnsboro, SC.
"It is extremely satisfying to see how the Phoenix Challenge Foundation has fulfilled its vision of exposing young people to flexography and our industry, then to watch them find successful and fulfilling careers," says PCF chairman Bettylyn Krafft. "I could not be more proud of our supporters and especially the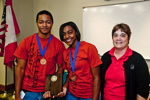 students."
The Phoenix Challenge Foundation took time out to remember Ron Harper at the 15th Anniversary dinner. Mr. Harper, who passed away in April, has always been known for his enormous level of compassion and support for education in flexography, especially the Phoenix Challenge Foundation.