Published: April 03, 2012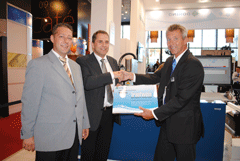 HERNE, GERMANY | Security printing company Trautwein GmBH & Co. has invested in three Domino K600i color piezo inkjet print heads to print high quality digital applications, such as security seals, codes, labels, and document overlays. The ultraviolet (UV) curable 600dpi K600i print heads were chosen by the company due to their capability of applying high quality variable data overprinting onto a wide range of substrates at very high production speeds.
The three K600i print heads have been installed across the company's existing special web production line, which is based at its printing facility in Herne, Germany.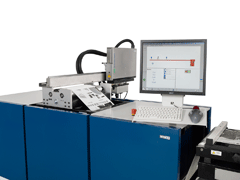 Oliver Thiele, general manager at Trautwein GmbH & Co., explains: "We print both variable and static data onto a huge variety of different substrates, some of which can be extremely thin and delicate, while others can comprise several different 'security' layers. For us, therefore, it was essential that we found a solution that would deliver the highest quality print onto a wide range of delicate materials without impacting on our production output."
According to Thiele, the K600i provided the perfect combination of high quality print, excellent adhesion properties onto a range of security foils as well as its ability to handle variable data, text, graphics, and bar and QR codes.
The native 600 dpi print resolution of the K600i, with its three or four greyscales together with its high production speeds capable of printing at 50-75 mpm was also a key benefit for Trautwein.
The UV-curable K600i accommodates different print widths by stitching heads across web machines. Print widths range from 108 mm (4.26 in.) to 782 mm (30.81 in.), with scalability being achieved by mounting print modules across a bar. Having invested in three print heads, Trautwein is now able to print up to 333 mm in total.
"The compact modular and scalable design of the K600i facilitates easy integration with a range of host machines, making it the ideal print solution for anyone wishing to convert to digital printing," concludes Thiele.