Published: March 20, 2012
LONGFORD, IRELAND | Turner's Printing Co. is investing in a Heidelberg Speedmaster SM 52-4+L Anicolor after a careful evaluation of the Irish printing market.
Warren J. Turner, who joined the business as an account manager in 2007 after a spell in digital print in Australia, explains: "The print industry has gone through difficult years in Ireland. Our own company has had to restructure, rationalize, and refocus on our customer's needs. Price, turnaround time, and quality are clear customer requirements, and the driving factors behind our decision to invest in the Anicolor.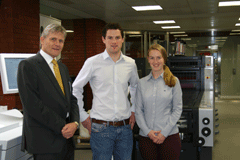 "Two of our strategic objectives for 2012 are to continue to drive down costs and improve margins by reducing downtime and waste and increasing productivity. We believe that the Speedmaster SM 52 Anicolor will help us achieve this with its faster makeready times and minimal startup paper waste. It meets our customers demand for a short run, very fast turnround response service."
Warren Turner Sr., who runs the company with his brother Derick adds: "We analyzed both digital and litho over a 12- to 14-month period. Our business doesn't have a lot of personalization, so the Anicolor seemed the more suitable solution for our requirements. We have some digital printing, but our calculations suggest the cost-effective breakpoint for the Anicolor being as low as 200 to 250 sheets. Our run lengths are reducing, typically 3,000 to 5,000. The Anicolor will now print many of the smaller jobs that are presently on the B1 presses."
Turner's has worked diligently over the past two years to enhance its quality while at the same time reducing cost and waste by operating in a leaner and more environmental manner. It has also invested in its people and skills.
In the last 12 months the company has reintroduced ISO 9001, started working to ISO 12647-2 color management standards, and implementing a new improved Quality Management System, bringing the whole company behind the quest for lean manufacturing. Planning and productivity analysis through its MIS is ensuring that the business moves forward decisively on the basis of real life data.
Warren and Derick Turner have been at the helm of the family business since the mid 1960s. They are great, great, grandsons of Robert Turner, who was the publisher and printer of newspaper titles Leitrim Gazette, Leitrim Advertiser, and Longford Independent. Robert's son James opened his business at 4 Earl St. Longford in 1870, the company's present location. He was subsequently followed by his son Harold Irvine, father of Eric and Harold, the present directors' father and uncle.