Published: January 25, 2012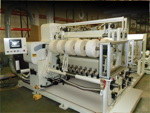 NEENAH, WI | The latest REM Model 15000 center-surface slitter/rewinder from Webex incorporates a number of innovative, custom features designed to produce uniform, narrow width, 40-in.-dia rolls from multi-substrate films run at tensions as low as 0.5 PLI.
A closed loop system automatically positions dual pivoting winding stations and dual driven, rubber-covered winding drums to achieve consistent winding pressures and tensions regardless of slit roll size or weight. The floor pick-up system handles master rolls to 4,000 lbs. PLC control with recipe memory and color touchscreen simplifies operator input.