Published: October 01, 2008, By By Edward Boyle, Contributing Editor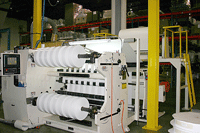 One of WebCut Converting's customers is among the world's most well-known and respected companies, with facilities in 60 countries and more than $21 billion in annual sales. Another customer holds a prominent position within the converting industry, with nine locations in the US and Mexico and more than $100 million in annual sales.
Yet, while these customers are among the industry's leading suppliers of packaging and label substrates, they both rely on a much-smaller company to deliver product with a level of speed and quality these industry leaders seemingly can't provide. This is one David-and-Goliath tale that actually has a happy ending.
"We're a natural extension of other people's companies," explains Dan Weber, president of WebCut Converting (WCC), a contract slitter, laminator, and sheeter. "For instance, these customers can do their own slitting, but they come to us because we maybe do it quicker; we can do it cheaper; and we offer certain capabilities they may not have. So if there are capacity issues — and sometimes cost issues — they come to us."
They also come to WCC, says Weber, because of the 100 years of combined experience its slitter operators have, along with converting equipment that can deliver finished rolls from ⅛ -80 in. wide in a Class 10,000 clean room environment. To do so, WCC houses a range of equipment at its 26,000- and 10,000-sq-ft facilities, including an 80-in. and two 63-in. Deacros, a 60-in. Rosenthal sheeter/laminator, a 65-in. Arrow slitter (no longer manufactured), and a Siat tabletop slitter.;
The newest slitter, installed this year, is the 80-in. Deacro C800A, capable of handling paper, film, liner, and label stock. Weber says the addition of that slitter has added to WCC's already unique capabilities. This slitter has overhead web path, auto unload, and digital readout for knife positioning. The extra capacity is also required to meet its customers' tight turnaround times, typically 24 to 48 hours.
"We may only run over 60 inches 10 percent or 15 percent of the time, but it's nice to have that extra 'bullet' in our holster," explains Weber.
Changing Shafts
WCC's latest improvement in slitter speed and product quality was attained with a retrofit on a 63-in. Deacro 940D, which is unique because it can wind a 40-in. outer diameter (O.D.) with differential shafts. The company switched its core shaft technology on the slitter from a competitor's differential shaft to a Model 1250-CL (Cam Lock) design from Goldenrod Corp. It grips the core more securely than previous shafts.
"More and more converters want bigger rolls," says Weber. "A lot of the older Mark Andys and Webtrons can handle a 40-in. O.D., so they have less changeover and save on scrap. It creates a lot more efficiency for them."
Weber says this secure grip is particularly critical for WebCut as a contract converter that constantly switches between roll widths, lengths, and weights on every machine. Its older shafts from a different supplier simply didn't perform as well.
"In their defense," Weber says of the previous shaft supplier, "we are a contract manufacturer, so every time we put something on there, it's different, it's new. We received an application for higher tensions and larger O.D., but we didn't want to sacrifice the low end of tension. We slit anything from a half-mil BOPP film to a 30-mil extruded film, from one-quarter inch to 80 inches; we never know what we're going to get."
Weber notes the old yoke differential technology it uses on another machine works by loading a stack of cores and spacers laterally against a fixed collar. Cores are allowed to rotate, but spacers are keyed and rotate with the shaft at a set overspeed.
A pneumatically controlled yoke applies pressure on the spacer and cores. Friction is applied on the sides of each core by the spacers, and the cores are allowed to rotate at their own rate. As roll diameter increases, so does the air pressure in the yoke.
Mark Olsen, technical development manager of WCC, recognized there were disadvantages to this system. Operator set-up time is very long, and the company had to inventory a wide variety of core spacers due to the variety of jobs run. Based on personal experience, Olsen knew this system was known for inconsistent tension across the web and for generating excessive dust.
Stability Achieved
The Goldenrod 1250-CL features a series of cam lock rings situated across the face of the shaft that grip and lock the inside diameter of individual cores. The inside diameter of the cam lock ring then becomes the point of friction on the internal pneumatic shaft. The cam lock rings rotate on the internal pneumatic shaft that utilizes engineered materials (high-temperature plastic or felt over a bladder system) to expand and control the amount of slip.
Weber says the additional capability on the 940D slitter and the stability provided by its Goldenrod shafts should help WCC realize its long-time goal of expanding its customer base to the broader packaging market. "Probably 90 percent of what we do is specialty, high-end films," notes Weber, "so we see a lot of potential in the specialty, lower volume side of the packaging industry."
With its ongoing improvements in equipment and technologies, Weber feels WebCut Converting is even better positioned to service its customers' unique requirements.
Contributing editor Edward Boyle, based in Reading, PA, has covered the converting industry for more than 24 years. Contact him at EJB Communications; 610-670-4680; This email address is being protected from spambots. You need JavaScript enabled to view it..
Converter Info
Shaft Is Bored
Shaft weight was a concern for WebCut Converting (WCC), which needed a shaft that could handle 500 lb of rewind roll weight at a 40-in. dia roll build and at run speeds to 800 fpm. With frequent changeover and given that the shaft was a lift-out shaft handled by the operator, Goldenrod worked with WCC to reduce the weight of the shaft by boring out as much material as possible without compromising the shaft's integrity, says Dan Weber, WCC president.
The company dropped the new shaft into the Deacro slitter and began running quality rolls at full machine speed on the same day. What was once a machine that ran only in locked core mode now runs 70% of the time in differential rewind mode.
Supplier Info