Published: February 19, 2016
NORTH KINGSTOWN, RI | Toray Plastics (America), manufacturer of polypropylene, polyester, metallized, and bio-based films, has developed a bio-based biaxially oriented polyester (BOPET) film for use in the manufacture of solar control window films for commercial and residential applications. New Lumirror brand BioView PET film is manufactured with company's proprietary sustainable resin blends, which are made with approximately 30% renewable feedstock.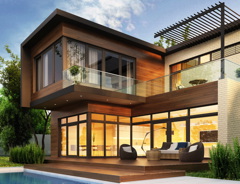 Company says the BioView bio-based PET film's performance is equal to that of traditional solar window films during solar film manufacturing, installation, and use in technically demanding applications that require exceptional optical clarity. Toray Plastics is the global leader in the manufacture of traditional films, made with or without UV protection, used for solar window film applications.
"This is a very exciting development for window film technology and for the commercial and residential building markets," says Milan Moscaritolo, senior sales and marketing director of the Lumirror Division. "The construction industry continues to look for innovative ways to help developers reduce energy costs. Creating a film that lessens the impact on the environment, without sacrificing solar protection performance, was the natural next step in the evolution of the technology. The BioView film represents a perfect marriage between an environment-friendly film and an energy-saving application."
BioView bio-based film is a multilayer structure with surface and optical qualities that are strictly controlled by company's proprietary coextrusion technology. It is said to provide its low haze, excellent handling and processing characteristics, and high scratch resistance.
This email address is being protected from spambots. You need JavaScript enabled to view it.