Published: January 25, 2016
COHOES, NY | Mohawk, manufacturer of fine papers, envelopes, and specialty substrates for digital and commercial printing, announces a major expansion of its wide-format inkjet portfolio to meet what it says are the needs of the rapidly growing digital printing market.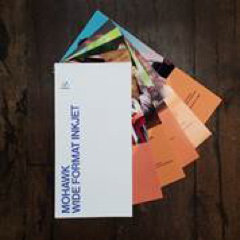 The Mohawk Wide Format Inkjet portfolio, which previously consisted of six items, expands to 112 items, featuring 32 different product lines, including: backlit, lightblock, black polyester, adhesive, DuPont Tyvek, tear resistant fabric, and more. Items in the expanded portfolio are optimized for aqueous inks, Memjet inks, Solvent/Eco-Solvent inks, Latex ink, and UV-cured inks, and many products are compatible across multiple ink types.
Mike Madura, VP, Digital, Mohawk, says, "With our expanded offering of wide format inkjet media, Mohawk is truly a one-stop shop for the broadest range of digital papers and substrates, including dry toner products, HP Indigo-compatible products, and now wide format inkjet products."
Company says its wide format inkjet substrates are known for benchmark performance including outstanding color control and top coat consistency for scratch resistance. The result is said to be vibrant and durable print quality for use across a wide range of applications including banners, posters, signs, point-of-purchase graphics, wall murals, architectural renderings, and more.
The wide format inkjet products are searchable via company's Digital Product Selector by media type or ink type.
This email address is being protected from spambots. You need JavaScript enabled to view it.