Published: October 16, 2015
NORTH KINGSTOWN, RI | Toray Plastics (America) announces new TreaTear LT Series of linear-tear, polypropylene sealant films for any type of non-retort pouch lamination, including stand-up pouches, requiring a low SIT (seal initiation temperature) and high heat-seal strength.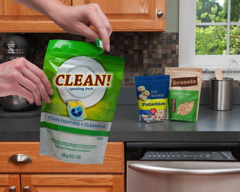 Films are made with company's proprietary design, which is said to deliver a precise machine-direction linear tear without the need for laser scoring, perforations, or registration.
Available as thin as 30 microns (1.2 mil), films reportedly offer yield advantages over traditional 60- or 70-micron sealant films, as well as flexibility with overall lamination design. For example, company says, manufacturers that use a traditional nylon directional-tear film laminated to a standard sealant web will find that LT films can now replace both of those films. The use of one, thinner film also provides important sustainability benefits, such as source reduction and lightweighting.
The Series is compatible with most zipper stocks, is FDA- and CONEG-compliant, and comes in clear, white, and custom colors.
This email address is being protected from spambots. You need JavaScript enabled to view it.