Published: June 09, 2015
ALPHARETTA, GA | Neenah Packaging has released the first swatchbooks for its box wrap and folding board. Company says the new swatchbooks showcase the packaging solutions that can be created with its wide range of colors and textures, as well as custom make options.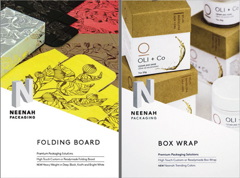 Packaging papers and folding boards are said to be ideal for all types of premium packaging projects including high-end beauty products, wine and spirit boxes, compact electronics, and more.
"Colors and textures communicate a brand's style, level of innovation, and quality," says Mark Sng, (https://www.linkedin.com/in/markzsng) director of marketing, Neenah Packaging. "Neenah is a source for everything needed to create packaging that will enhance image-focused brands, retail presence, and point-of-purchase experiences."
Available in a wide variety of calipers, colors, and sustainable alternatives, the folding board also is said to feature premium print performance.
Box wrap papers are called a natural brand extension for consistent color and quality. They are offered in what company says are the whitest whites, deepest blacks, and in trending colors. Available in more than 15 finishes and in a wide variety of sustainable choices across its product lines including FSC certified and recycled options.
Both folding board and box wrap are said to be suited for all print processes from flexo and offset, to UV and digital, and for specialty printing such as foil stamping, embossing/debossing, digital raised ink, and more.
This email address is being protected from spambots. You need JavaScript enabled to view it.