Published: October 15, 2014
WESTBOROUGH, MA | RKW Danafilms announces APTRA, a film said to be impervious to viruses and blood-borne pathogens, resistant to rips and tears from hurricane force winds, and still sufficiently porous to provide optimum breathability in protective garments.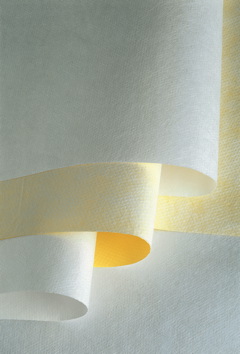 "APTRA is a lightweight, microporous film that on its own delivers an extraordinary combination of barrier and breathability," says Rod McDowell, national accounts manager, RKW Danafilms. "And when used in a multilayer film structure, it brings an interesting and unlimited number of opportunities to many marketplaces."
McDowell explains APTRA has applications across a variety of consumer, commercial, and industrial segments, including packaging such as food, dry goods, and cosmetics, medical/hygiene, and many more.
Company says the film's performance comes from a proprietary extrusion process that yields a highly defined, carefully controlled pattern of particles, the size of which measures less than one-half micron. Reportedly, such precision lends itself well to medical and hygiene applications where compliance with standards on blood-borne pathogens (ASTM F-1670) or viral penetration (ASTM F-1671) is required. Further, certain compositions of APTRA include FDA-approved raw materials for incidental contact, direct contact, or both, depending on a client's specific requirements and end use.
Product can be made part of a variety of multilayer structures, such as spunbond nonwovens, through any number of means of lamination, including point bonding with heated calenders, sonic bonding, heat sealing, and applied adhesives.
This email address is being protected from spambots. You need JavaScript enabled to view it.