Published: April 16, 2018, By Christine Pietryla Wetzler
INFOFLEX 2018 takes place May 7 – 8, in conjunction with Forum held May 6 – 9, 2018. Collocating in Indianapolis but at different nearby venues, the combined program boasts events and exhibits that introduce attendees to innovative technologies, trending new products and services, live equipment demos, and technical presentations.
To see which companies are bringing equipment and machinery click here and to find the contact and booth information for the 240+ exhibitors, visit the show's interactive floor plan at this link.
INFOFLEX is being held at the Indiana Convention Center 100 S Capitol Ave, Indianapolis, IN 46225. Registering for INFOFLEX can be done online at this link.
Solutions Theatre
Specific to INFOFLEX, the Solutions Theater is a small setting in which to hear detailed, 20-minute technical descriptions of insights in converting, narrow web, flexible packaging, hybrid technology, corrugated direct print, and premedia technologies. 15 sessions will be held over two days at the end of the 600 aisle—directly across from the show floor entrance.
Monday Evening Social
The Monday Evening Social is open to everyone and begins at 5 p.m. on May 7. Live music, food, and drinks will provide a fun atmosphere for networking.
Tuesday Lunch
Another networking opportunity comes in the form of lunch on Tuesday, May 8, from 12:30 p.m. to 1:30 p.m. at West Georgia Street (at the eastern entrance of the Convention Center). The food selection will be augmented by several local food trucks. Every attendee will receive a voucher for lunch.
Emerging Leaders Golf Outing
On May 5, before Forum begins, the Third Annual FTA Emerging Leaders Golf Outing will take place at Eagle Creek Golf Club 8802 W 56th Street, Indianapolis, IN 46234. Proceeds from the event will be invested into FTA initiatives, single registration is $150, and a foursome is $550. Participation includes lunch, unlimited practice balls, 18 holes of golf, golf cart, competition prizes, drinks and a post-outing reception. To register visit: https://www.flexography.org/product/fta-emerging-leaders-golf-outing/
Forum 2018 is themed "Bringing It All Together: Synchronizing Processes, People and Potential," and will take place May 6-9 across Maryland Street from the Convention Center at the Indianapolis Marriott Downtown (350 W Maryland St, Indianapolis, IN 46225) from May 6-9, 2018—Sunday to Wednesday. Encapsulating INFOFLEX being held on Monday and Tuesday, Forum seeks to be a fundamental four-day learning experience that will enable visitors to improve day-to-day processes, brush up on known skills, and reignite your imagination and personal performance.
Nine sessions (plus a free pre-conference session) held over four days will offer more than 2000 attendees 18 hours of learning from more than 40 expert speakers. To see the entire Forum 2018 schedule click here.
Forum 2018's sessions include:
Purchasing Printing/Converting Equipment: Flexo's New Market Scenario
Flexo Quality Consortium (FQC): Cultivating Our Future Through Research
Culture Eats Strategy: Strategic and Cultural Alignment
New Capabilities: Look at Flexo Now!
Expanded Gamut: Where Are We Now?
Taming Consumer Behavior Through Packaging Design
FIRST in Motion – Wide Web Project
Advanced Corrugated Technologies: A Business Case
Troubleshooting Survival Guide
Exhibit Hall Hours
Forum Exhibit Hours – May 6-9 at the Indianapolis Marriott Downtown
Sunday, 9:30 a.m. to 5:00 p.m.
Monday, 8:00 a.m. to 6 p.m. – social held from 6:00 to 8:00 p.m.
Tuesday, 8:00 a.m. to 6:00 p.m.
Wednesday, 8:30 a.m. to 12:00 p.m.
INFOFLEX Exhibit Hours – May 7-8 at the Indiana Convention Center
Monday, 1:30 p.m. to 6:00 p.m.
Tuesday, 1:30 p.m. to 6:00 p.m.
Booth Descriptions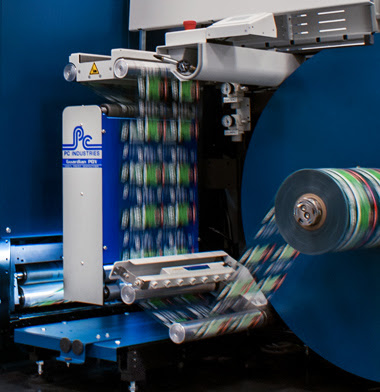 BALDWIN Vision Systems (Booth #511) a new business segment of BALDWIN Technology Company Inc., will demonstrate its color management and defect detection technology.
CRON-ECRM (Booth #237) will be promoting its HDI Flexo CTP product line. The HDI Flexo series was designed specifically for flexible packaging manufacturers to get the highest possible quality prints, taking their unique needs into consideration.
Eaglewood Technologies (Booth #402) will run live demonstrations of the Sitexco SN 1.0. Sitexco systems are an environmentally safe and effective way of managing anilox inventory. The advanced laser technology is proven safe and will easily clean ink and coatings of all types.
Flexo Concepts (Booth #207) will promote the advantages of its TruPoint® premium doctor blades as high-performance blade options that are safer and last longer than steel.
Flint Group (Booth #519) introduces two new-generation sleeves, the rotec® Smart Sleeve and the rotec® High Performance Sleeve, now with new easy-mount technology incorporated into the base to increase the ease and speed of mounting sleeves on press. This enhancement improves productivity and makes job changes on press faster and smoother.
Global Specialty Products USA (Booth #407)
will be featuring INK & ADHESIVE Cleaning Technologies (Solvent, Aqueous & Soy-Based) including Products Approved by NSF International.
GMG (Booth #119) will be focusing on GMG OpenColor 2.1--the most recent version of the past FTA Technical Innovation award recipient--and color-accurate prototypes using the Epson SureColor S80 Series printers.
Harper Corporation of America (Booth #403) will provide insight and answer questions regarding the company's latest technology, products, and services. In addition, Sean Teufler, Technical Director at Harper, will be presenting at the INFOFLEX Solutions Theater. His presentation, "Scoring Solutions," will cover the unknowns that contribute to anilox scoring and how to successfully deal with them.
INX International Ink Co. (Booth #111) will highlight water-based and UV Flexo inks, including the new AquaTech™ ION X, and will also display other high-performance solvent inks and coatings.
PrimeBlade (Booth #742) Kenth Sandström and Jonas Andersson will be available to discuss how to optimize your doctor blade solution, how to choose blades and seals, and how to improve your productivity and blade quality, among other industry and performance issues.
Sun Chemical (Booth #601) will introduce a new ink with excellent smear resistance as a complement to its portfolio of eco-friendly inks while showcasing how its full line of coatings, inks and adhesives can produce packaging that pops off the shelf and enhances pressroom efficiency.
Sustainable Green Printing Partnership (Booth #103) SGP and its certification for print facilities will be featured at the sustainability meeting on Monday, May 7, during Forum at the Indianapolis Marriott Downtown. In addition, SGP will have a booth at INFOFLEX on May 7-8.
TRESU (Booth #815) will highlight its full range of ancillaries as well as its Flexo Innovator press designed to meet the quality and performance demands faced by packaging and label converters.
X-Rite Incorporated and Pantone LLC (Booth #841) are showcasing their complete end-to-end color workflow solutions for flexography printers and converters. With X-Rite and Pantone solutions, brands, designers, package printers and converters can streamline the premedia and prepress process, ensure effective ink formulations, reduce makeready times and improve production quality.