Published: September 09, 2017
Its largest edition since first being held in 1980, Labelexpo Europe 2017 will occupy nine halls – a total of over 35,000sqm – when it returns to Belgium's Brussels Expo from September 25 – 28, 2017.
Designed for print industry professionals including label and package printers, brand owners and designers, visitors to Labelexpo Europe 2017 can expect a busy show floor packed with over 650 exhibitors including a host of new and international companies, as well as the industry's leading big-name brands.
There will also be two dedicated feature areas with the return of the popular Linerless Trail and the debut of the Automation Arena showing two automated press lines for digital and conventional label production. There will also be several educational paid-for master classes run in collaboration with the Label Academy.
Registration opened in April and visitors can find out more and view the full list of exhibitors by visiting http://www.labelexpo-europe.com/. An early bird discount is available until September 15, 2017.
Lisa Milburn, Labelexpo's managing director, explains the significance of the show, "It is fantastic to know that the label and package printing industry continues to get right behind Labelexpo Europe. Our exhibitors are booking their stands two years in advance to avoid disappointment and this year's show will have a fresh layout as we've grown to cover nine exhibition halls. Labelexpo will once again be the only place this autumn to see the latest innovations and early indications point towards lots of new products being launched at this year's show. Visitors can be assured that they will get to meet and speak to the leading names in the industry, as well as see the latest technologies and smart and efficient printing solutions to hit the market."
Linerless Trail
Originally debuting at Labelexpo Americas 2016, the Linerless Trail brings together Evonik, Henkel, Maan, Mitsubishi HiTec Paper Europe, Ritrama and Transfer Trade. From materials through to processing, the Linerless Trail will focus on in-house production and new materials as it aims to introduce and showcase the benefits linerless technology can offer print houses.
Linerless labels incorporate both adhesive and a release coating, eliminating the need for a separate release liner. Displaying both materials and converting systems, the Linerless Trail participants will be organizing live demonstrations on their stands as well as handing out samples.
Jade Grace, Labelexpo Europe's project director said, "There is a lot of talk about linerless and as interest continues to grow in this area, we are seeing it being more widely used, particularly in food manufacturing. There are multiple benefits to going linerless and printers who are looking to become more eco-friendly should consider a switch, because it helps eliminate waste, bring down the overhead costs of producing labels and yield greater efficiency in the printing and application stages."
Automation Arena
The Automation Arena will debut at this year's exhibition. Located in Hall 11, the Automation Arena is being held in collaboration with Cerm, Esko, Xeikon, MPS, Kocher + Beck, AVT, Rotocontrol, Matho and Wasberger.
Three half-hour long real-time presentations will run daily at 11.00, 13.00 and 15.00 over the show's first three days and once at 11.00 on the final day. These sessions will be filmed live and relayed via large screens to show visitors every single, detailed aspect of the job.
Grace goes on to say, "This type of tradeshow feature has never been done anywhere before. The Automation Arena will clearly demonstrate to Labelexpo visitors that automation is not only the promise of tomorrow but that it's available today.
"To remain profitable, printers need to plan ahead by integrating their pre-press and production workflows with their management operations and connecting their entire supply chain. Printers automating their business will boost their competitiveness and become more agile with lower costs, increased productivity and better reliability, leading to higher profit margins. The Automation Arena will give attendees a good insight into the benefits of automation and a taste of how label and packaging production may evolve over the next five to ten years."
Master Classes
Labelexpo Europe will also be hosting a dedicated master class on MIS and workflow automation on September 26, 2017. Organized by the Label Academy, the five-hour master class will be presented by Mike Fairley and focus on how electronically managing an efficient and profitable twenty-first-century operation is able to offer an integrated management information solution.
To make the visitor and exhibitor experience even more enjoyable, the facilities at Brussels Expo have been refreshed. With enhanced security and upgraded lighting, the venue has also overhauled its catering services and now has free Wi-Fi throughout.
Registration will open at the end of April and visitors can find out more and view the full list of exhibitors by visiting http://www.labelexpo-europe.com/.
Exhibit Hall Hours
Monday, September 25: 9:30 a.m. – 5:30 p.m.
Tuesday, September 26: 9:30 a.m. – 5:30 p.m.
Wednesday, September 27: 9:30 a.m. – 5:30 p.m.
Thursday, September 28: 9:30 a.m. – 4:00 p.m.
Booth Descriptions
Arconvert U.S. (Booth #5A57) attendees will have the opportunity to explore the latest additions to their flagship Manter and Adhoc product lines.
Avery Dennison (Booth #5A31) will be demonstrating is a Recycled Paper facestock certified by FSC, the "Sensorial Collection" of textured label materials, and Clear Hotmelt adhesive for chilled food packaging.
AVT (Booth #9C05) will showcase systems for automation and efficiency supporting Industry 4.0 production environments.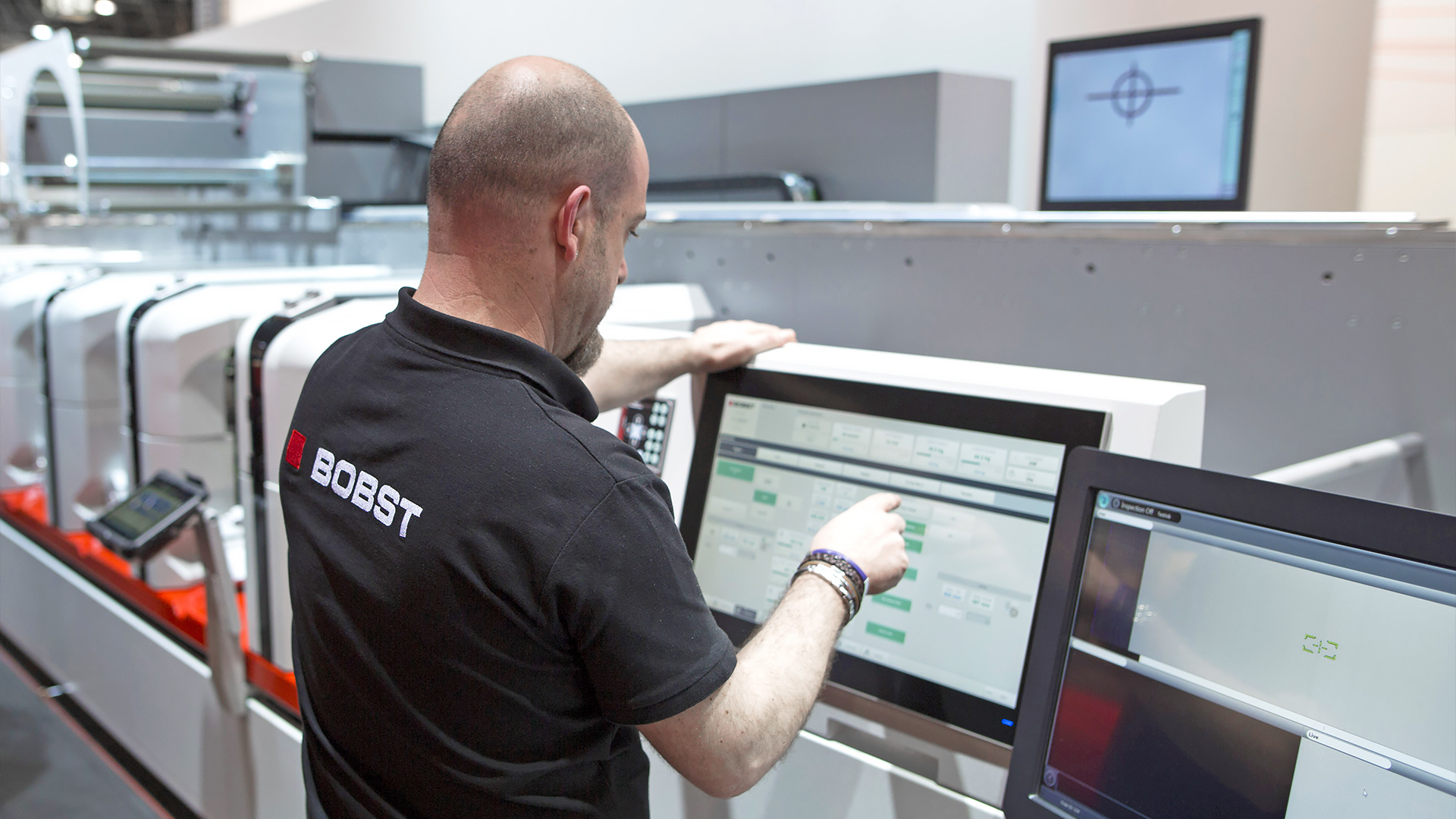 BOBST (Booth #3A58 & 3A59) will feature equipment in operation, exciting presentations, and connectivity displays. Three narrow and mid-web inline UV flexo printing presses will be in demonstration: the M5X, the M1 and the M6 lines, all in their latest configuration and fitted with enhanced features, will print and convert "live" label and flexible packaging production.
Codimag (Booth #11C10) will feature enhancements to its Viva 340 Evolution and Viva 340 combination presses based on the company's Aniflo printing technology. There will also be regular live demonstrations and the possibility to arrange private trials.
Colordyne Technologies (Booth #9C65) will be showcasing its 3600 Series Retrofit solutions featuring both UV and aqueous engine technology.
Contiweb (Booth #11D17) along with DG press ServiceS will feature the Contiweb Thallo, a highly adaptable web offset press system designed for the efficient production of high-quality, flexible labels and packaging.
Cosmo Films (Booth #3C70) will showcase its specialty PSA labeling products including specialized films for PS self-adhesive labeling as well as direct thermal printable top coated films and universal printable synthetic paper for labeling applications.
CRON (Booth #9B18) will showcase the CRON HDI Flexo 600 and 1600 CTP models. The HDI Flexo range — designed to provide outstanding flexibility — is available in three formats: 600 and 900mm for label applications; and 1600mm for general packaging work.
Durst (Booth #8B26) will be presenting its latest development, the new digital - high resolution - high speed - 8 color label press Tau 330 RSC inline with OMET's Xflex X6 hybrid solution as well as its new Web2Print workflow.
Esko (Booth #3C50) will showcase many innovative prepress solutions for brand owners and label converters at Labelexpo Europe 2017, September 25 to 28, in Brussels. These solutions will address various business challenges of brand owners as well as converters across the end-to-end label workflow.
ETI Converting Equipment (Booth #7A31) announces its presence at Labelexpo Brussels. ETI will demonstrate its Mini-Cohesio machine and will present a pattern hotmelt coater.
Flexo Concepts (Booth #7B20) has collaborated with Esko, Flexo Concepts, Harper, MacDermid, Siegwerk, Raflatac, Dirty Water Distillery and Clemson's Sonoco Institute of Packaging to produce a unique bottle label featuring five-color modified process printing, metallic ink, custom die lines and high-quality print. Each supplier will offer tastings of this exclusive "Bee Sting" honey liqueur at their Labelexpo stands while showcasing the label.
Flint Group (Booth #5C25-28) will be exhibiting a wide range of innovative solutions for labels and packaging. Combining industry strengths, four of its divisions (Flexographic Products, Narrow Web, Digital Solutions (Xeikon and ThermoFlexX) will showcase together solutions that enable label printers and converters to better position themselves to address emerging market realities.
GEW (Booth #6C18) is ready to feature the latest UV curing innovations comprising LED, mercury arc and hybrid systems together with the RHINO electronic power supply.
Grafikontrol (Booth #11D09) will introduce all LYNEX system's features in label control. LYNEX is part of the Grafikontrol TQC-360° modular platform, developed to provide printers with an overarching solution, which guarantees quality, combining top quality performances with top-drawer support.
Hamillroad Software (Booth #11B22) will launch Bellissima DMS, its Digitally Modulated Screening engineered specifically for flexographic printing applications.
Harper Corporation of America (Booth #7B21) will display its award-winning patented QD™ ink proofing and flatbed printing system which has become the color-matching proofer of choice by many of the leading ink manufacturers.
Heaford (Booth #7D33) will unveil its new automation for label printers designed to eliminate the need for skilled operators in plate mounting by combining a series of failsafe automatic procedures with unique machine ergonomics.
HERMA (Booth#5C14) will showcase its innovative multi-layer technology, affording most label materials to be turned opaque without affecting the properties of the adhesive, but with a maximum of migration safety.
INX International Ink Co. (Booth #4B65) together with SAKATA INX will have a variety of narrow web label, sleeve, and flexible packaging products on display.
IST METZ (Booth #5D21) will be presenting the MBS range with its standard Hot Swap functionality. In addition, it is presenting the BUY ONE, TRY ONE concept for the first time, enabling customers to test the new high-performance LED system for free.
Karlville (Booth #8B39, 5C200) will feature its shrink sleeve, pouch, and flexible packaging converting solutions.
Klöckner Pentaplast (Booth #3E74) will exhibit their line of innovative label films for packaging. In addition, Pentalabel® eklipseTM, a state-of-the-art light blocking film is nominated as a finalist in the Industry Label Awards.
Kompac (Booth #4E64) will be addressing the benefits and strengths of UV/Aqueous coating systems for the label and packaging market.
Label Traxx (Booth #9A10) will feature Siteline a cloud-based SaaS module that provides an optimal user experience for brand owners while simultaneously interfacing with Label Traxx to automate many administrative tasks.
Lombardi Converting Machinery (Booth #11C53) will provide press demonstrations that highlight aspects like the accuracy of the register and the rapidity of the job change over, all indicators of the technological and quality standards achieved by the Lombardi products.
Maan Engineering (Booth #7D23) will feature its HYBRID Lamination Coating Line, a coating line that allows users to produce both laminate and linerless labels.
MacDermid Graphics Solutions (Booth #5A17) will be exhibiting comprehensive platemaking solutions optimized for label printing.
Mark Andy (Booth #4C45) will debut a digital alternative to traditional rotary screen printing, the latest option in the company's growing digital hybrid portfolio.
Maxcess (Booth #6A45) will unveil two new Fife sensors as well as featured break-through products from Webex, Tidland and Magpowr.
MPrint (Booth #3E42) will introduce its new generation of hybrid UV inkjet presses, the mlabel GEN3.The base machine will have a standard mechanical width of 330 mm (13") but does not have to be outfitted with a print engine of the full print width from the beginning.
MPS Systems B.V. (Booth #11C20) is set to launch several new innovative technology initiatives with key industry partners at Labelexpo Europe. Ground-breaking connectivity technology, process advancements in job automation, and the new Semi-Rotary Quick Change Die solution will be shown at the stand and in the Automation Arena.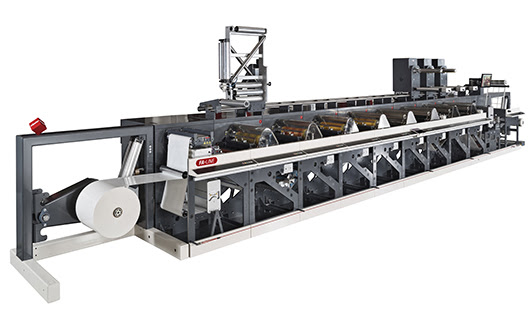 Nilpeter (Booth #7B35 & 7B39) is premiering its FA flexo press, the latest addition to its state-of-the-art flexo program, and will display one of its newly upgraded digital PANORAMA Hybrid presses.
OMET (Booth #B49-53) will provide live demos of three presses. OMET is able to provide printing machines for any necessity, from the simplest label to complex applications, from combined printing technologies to special solutions and tailor-made projects.
Pamarco (Booth #3E36) will be showcasing their range of engraved anilox inking rolls, with extended EFlo technology, ideally suited for use in high graphic printing applications using UV, Water and Solvent based inks.
PC Industries (Booth #7A47) will be showcasing a host of new and improved systems, with live demonstrations throughout the show.
Phoseon Technology (Booth #6D35) will feature its new FireJet™ FJ601 UV LED curing solution which simplifies retrofits with a self-contained air-cooled design.
POLAR (Booth #5C31) will showcase its highly-automated LabelSystem DC-11plus. With a capacity of up to 1,440 label packs per hour, this die-cutting system sets the benchmark in wet-glue label production.
QuadTech (Booth #3B52) will focus n its extensive range of color management and defect management solutions.
Rotoflex (Booth #C45) is set to present a diverse range of offline inspection, slitting and rewinding solutions. As a Total Solutions Partner of Mark Andy, Rotoflex's Business Responsive Technologies will be presented with live demonstrations.
Taghleef Industries (Booth #5C40) will demonstrate how its high-quality films and special finishes connect with consumer emotions to help brands become best sellers.
Toyo Ink Europe N.V. (Booth #11D50) and Toyo Ink Co., Ltd., both members of the Toyo Ink Group, will showcase their latest innovations for the label and packaging market as well as their unique capabilities and commitment to delivering to brand owners and converters best-in-class solutions that ensure food safety and quality, and reduce environmental impact and energy consumption.
Unilux (Booth #4C68) will unveil new controls for their popular LED2000 series strobes. The new controls make it easier to set up, operate and access powerful features and capabilities for high-speed surface and print inspection. The new controls provide on screen help and instructions in various languages to assist operators using the units.
UniNet (Booth # 9A45) will be showcasing a range of products from its iColor® Printing Solutions product line developed specifically to enhance the capabilities of the short-mid run label and packaging market.
Uteco Converting (Booth #A25) with its partners ebeam Technologies and INX Digital International, will unveil the first industrial end-to-end digital narrow-web solution for the safe mass-personalization of indirect food contact flexible packaging and labels.
Vianord Engineering (Booth #C35) will present a brand new solution for plate processing: Evo WAVE, the first-of-a-kind water-washable plate processor. Available in three sizes, Evo 2 (66 x 86 cm / 26 x 34 inch), Evo 3 (90 x 120 cm / 36 x 48 inch), Evo 4 and 120 x 160 cm / 47 x 53 inch), the new Evo WAVE is designed to accommodate all most popular water-washable plate formats.
Xeikon (Booth #5C24-25, 5C28-29) will feature its industry-leading digital label printing capabilities in the new Automation Arena.
Zanders (Booth #4A39) will highlight its Chromolux label range with an enticing sample box: "Labels Secret" which will reveal the secret of perfect labels.
Zecher (Booth #4E54) will feature its latest anilox technologies with the help of a team of experts. The company annually produces more than 12,000 engraved anilox rollers using 17 laser and 10 mechanical engraving machines.