Published: March 28, 2017
Manufacturers will showcase the latest from key areas of converting like web coating, laminating, slitting, rewinding, coating, pouch making and much more.
ICE USA 2017, the International Converting Exhibition in Orlando, Fla., April 25-27th, 2017, is the premier event for converting professionals interested in experiencing first-hand the industry's latest machinery, technology, and manufacturing solutions. Attendees from around the globe attend to see equipment in action, develop new business partnerships, network, and learn from leaders in converting.
Marking its fourth edition in the Americas, ICE USA is bringing over 250 exhibitors together with thousands of packaging, paper, non-woven, and self-adhesive industry professionals. Attendees will find the latest technology and see equipment live. Click here for a full list of exhibitors and access an online show planner.
The event also boasts a strong line-up of keynote speakers, industry fundamental workshops, and technical education sessions for professionals at all levels in the converting industry."Our goal with the educational sessions at ICE USA is to keep attendees up to date with the latest industry information presented by experts in the converting industry," said Melissa Magestro, Executive Vice President of Mack Brooks Exhibitions, Inc. "Our programs offer something for every level of experience – whether you are just starting out and need the basics, you are looking for the latest in industry research, or you need advanced troubleshooting techniques."
Highlights of the ICE USA 2017 Conference Educational Sessions include:
Keynote Presentation—Dr. Robert Fry, Chief Economist, (https://www.robertfryeconomics.com/ ) will present his outlook for the global economy in 2017 and beyond, with emphasis on U.S. manufacturing. In addition to covering the usual array of economic statistics, he'll address the vital role of oil prices, the likely impact of President Trump's policies on U.S. economic growth, and the potential for strong growth when the economy is at "full employment."
AIMCAL Fundamentals—The AIMCAL Fundamentals Course is a one-day program for anyone involved in Coating & Drying or Slitting & Rewinding operations of paper, film, nonwovens and other continuous flexible materials.
ICE USA Technical Sessions—No matter their level of experience, technical personnel in R&D, manufacturing, and operations can learn how to improve efficiency and cost-effectiveness in their job with information they can implement immediately through our technical educational programs. Topics include research, new technology and best practices in web coating, printing, drying, web handling, converting, finishing, adhesives, coatings, and substrates.
Future of Converting Theater—Presentations on the show floor will discuss best business practices, M&A's, sustainability, industry forecasts, and more.
Register here for ICE USA and attend the events above. Visit the ICE USA website to get a promo code and plan your activities.
NEW IN 2017: CO-LOCATING WITH INPRINT USA
In addition, show registration grants attendees FREE admission to InPrint USA, the industrial print show co-locating with ICE USA. InPrint features over 100 exhibitors, high-level education seminars and a collaborative environment where you can find solutions to your unique packaging, decorative or functional printing challenge. Receive free access to the InPrint with your ICE USA registration. For more information about InPrint USA 2017, visit www.inprintshow.com/usa. As well, the inaugural Global Industrial Inkjet Conference will be held during InPrint. Further details with a schedule of topics and speakers are available by visiting here.
EXHIBIT HALL HOURS
Tuesday, April 25 and Wednesday, April 26 10:00am – 5:00pm
Reception on show floor both afternoons 3:00pm – 5:00pm
Thursday, April 27, 2017 10:00am – 3:00pm
Education hours are from 8:00am – 10:00am each day, Tuesday through Thursday
BOOTH DESCRIPTIONS
AccuWeb and BST ProControl (Booth #211) at this joint trade show booth, visitors will find a comprehensive portfolio of solutions that seamlessly cover the converting industry's numerous technical and economic challenges. The inspection systems, the quality assurance systems in the iPQ family, as well as the layer and basis weight measurement from BST ProControl combine the offered products to an extensive portfolio for all needs in terms of ensuring and controlling quality in web-oriented processes.
Anilox Roll Cleaning Systems (Booth #1073) roll cleaning services and equipment help printers and converters. Visit the booth to see why their state of the art laser technology is the safest and most efficient laser cleaner for anilox rolls.
Carestream Contract Manufacturing (Booth #151) is providing opportunities to meet the company's technical experts and discuss its precision coating capabilities at its booth.
ConQuip, Inc. (Booth #321) is expanding into China and will detail this move as well as its optical film, dry film, reverse osmosis membrane, solar backplane, window film, carbonless copy paper, and filter paper at the show.
Davis-Standard's (Booth #411) converting technology and support services will be promoted and experts will be on hand to discuss current technology, including the company's five-roll silicone coater. The coater is capable of applying 100 percent silicone at rates up to 2400 fpm (732 mpm).
Dover Flexo Electronics (Booth #102) will highlight the latest advances in its Tension Transducers, Amplifiers, Indicators, Controllers and pneumatic brakes.
ebeam Technologies (Booth #1173)
will exhibit the ebeam Compact, the world's first electron beam system for curing inkjet inks on food packaging and enabling converters to mass produce inkjet-printed personalized labels and packaging without the food contamination risk from photoinitiators that are required in UV-cured inks.
Flexo Concepts® (Booth #114) will introduce its latest doctor blade innovation, TruPoint Green. The new blade "bridges the gap" between UHMW and steel in mid-high corrugated graphics applications. The Italian OEM is currently shipping its carbon fiber chambers standard with the Green blade. Flexo Concepts will also feature its TruPoint Orange® doctor blade as a safe replacement for steel.
GEW (Booth #825) will be presenting the latest releases of their line of specialist UV curing systems for the coating and converting industries. GEW manufactures UV systems for web coating lines up to 2.50m wide. It makes a range of UV curing equipment to cater to all processes including short wave mercury arc lamps for hotmelt adhesives and long wave UV LEDs for specialist coatings and laminating. GEW will show conventional mercury arc UV lamps, LED, hybrid UV systems, inert gas UV curing, and hybrid power supplies.
GOEBEL IMS (Booth #811) will showcase the T2 SecondarySlitter Rewinder, designed for a working width up to 87 inches and suit the expectations of both paper and aseptic packaging converters. The Machine converts coated and uncoated papers, special papers and board as well as aseptic packaging materials.
Goldenrod Corporation (Booth#421) is one of the largest manufacturers of winding shafts and chucks in the business and will showcase these solutions at its booth.
Harper Corporation of America (Booth #924) will showcase a wide range of machinery, technology, and manufacturing solutions for the conversion of paper, film, foil, nonwovens, and other flexible web-based materials.
Heraeus Noblelight America (Booth #751) will focus on the newly released modular UV-LED product platform, Semray*®. It will also be demonstrating its latest version of the Advanced Integrated Monitoring System (AIMS) for its Light Hammer® Mark II microwave UV product platform.
Jemmco, LLC (Booth #108) announces the expansion of its JemmTron Corona Treater Roll Coverings & Accessories product line to include ceramic replacement electrodes and the first of its kind, the JemmTron CRS100 Conductive Silicone Corona Treater Roller Sleeve. As a leading supplier to the extrusion and web converting industries, Jemmco offers a complete line of Rollers & Roller Coverings; Quality Control Products, including Dyne Pens & Solutions; Maintenance Equipment & Supplies, including Web Cleaning Systems and cleaning and maintenance products; and Processing Equipment & Supplies.
Martin Automatic (Booth #972) will demonstrate its advanced AirnertiaTM and MDR roller technologies. Offering lowest roller inertia and essentially friction-free rotation, these technologies are among the solutions offered for non-stop roll change and transport of web materials. Martin systems can be integrated into new lines and retrofitted to existing processes for greater speed, tension control, and productivity.
Maxcess (Booth #301)
to Introduce Fife D-MAX Enhanced Triple Drive Web Guide Controller, t
he first controller in the industry to control up to three guides from a single unit will be on display at the booth.
Mechanical Specialties (Booth 1070) patented the first self-locking core chuck and will showcase it and its core cutter machines at ICE USA. The chucks are self-locking in either direction and self-adjusting to the web tension pull. The company also makes specialty and custom chucks. Mechanical Specialties core cutter machines produce uniform, accurate cuts with clean, dust-free edges. The unique design eliminates the constant replacement and resharpening of cutting knives.
NDC Technologies (Booth #901) will debut the latest innovations for narrow web gauging applications. The new line-up includes the 8000-SLIM web gauging system with ultra-compact SlimTrak® scanner and ConvertIR™ gauge for fixed-point coat weight and moisture measurements. NDC will also be exhibiting the Beta LaserMike LaserSpeed® non-contact length and speed gauge with the highest accuracy in the industry.
New Era Converting Machinery Inc. (Booth #501) will show a complete coating and laminating line in its booth, the largest at the show, located directly in front of the show hall entrance. The coating line is a purpose-built machine capable of running at 500 fpm under constant, closed loop tension control.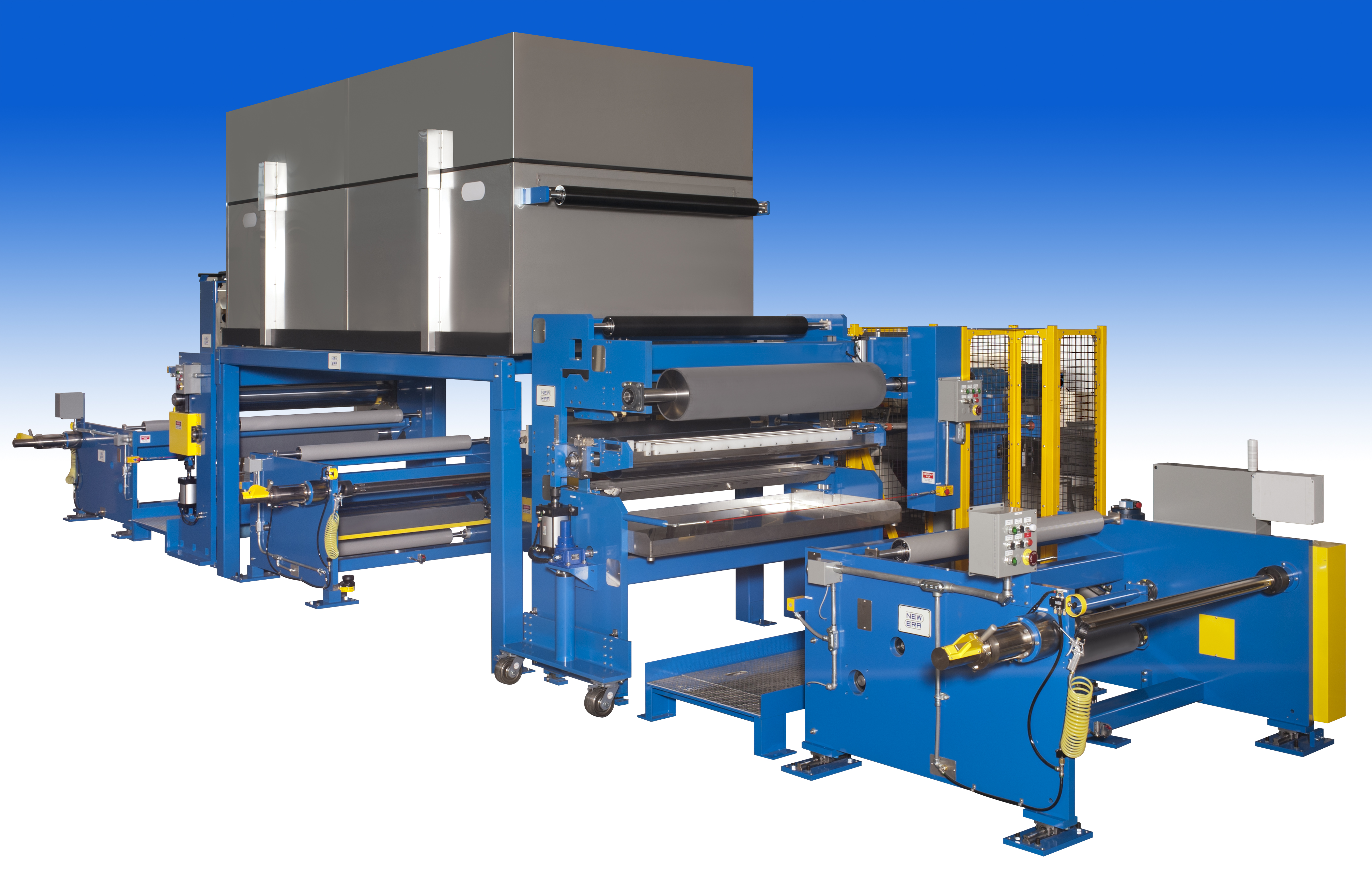 OneBoxVision (Booth #1043) has teamed up with Dell to offer commercial off the shelf inspection solutions. They will showcase this collaboration and provide booth visitors the ability to learn how you can deploy advanced inspection solutions and avoid obsolescence.
Polyonics (Booth #253) introduces a new family of adhesive transfer tapes designed specifically for high-temperature bonding of electronic, transportation and general industrial components.
Polytec (Booth #357) presents its non-contact encoder, the LSV Laser Surface Velocimeter. Accuracy and reliability make the LSV the perfect solution where precise, real-time length and speed measurements are critical.
Process Sensors Corporation (Booth #941) will showcase its Near Infrared (NIR) moisture and coat weight measurement solutions that optimize start-up, reduce costs and increase quality control in converting.
Proton Products (Booth #966) will showcase its new, smart, compact InteliSENS SL/SLR Mini Series sensors. These sensors set new standards in accurate, reliable non-contact speed and length measurement of moving web products with unrivaled performance and price. The InteliSENS SL/SLR mini-series sensors are designed to replace cumbersome, inaccurate, high-wear speed and length measurement devices used in the web industries.
PRUFTECHNIK (Booth #347) showcases ROTALIGN touch, the first cloud-enabled touchscreen system with integrated mobile connectivity to bring new dimensions in the world of precision alignment.
Roll-2-Roll Technologies (Booth #1034) will highlight its line of web positioning sensors, including the new ARIS WPS 440IR with a 440 mm sensing window and multiple applications with no need of calibration, and its line of web guiding systems.
SAM North America (Booth #531) is a world leader in the manufacture of converting and web-fed printing machinery. SAM's Solution Coating Lab is designed for customer product development trials and solution coating research. The lab offers 35 coating methods for various coating fluids and unique product conditions. Trials include high-speed automatic unwinding and winding to 1,000 mpm, thin film micro-gravure coating, solvent based coatings of high-tech materials, slot die coatings, and evaluations of flotation and roll support drying techniques.
Sysco Machinery (Booth #439) will show you how its rotary die cutting systems are the only machines on the market to use CCD cameras in conjunction with motion control systems to achieve tight tolerances at high speeds.
Thermo Fisher Scientific (Booth #424) will present its measurement and control solutions for film, foil, textiles and other web-based materials. Visit its booth to learn more about the company's full range of online, non-contact basis weight or thickness measurement gauges for the converting industry.
Unilux (Booth #835) will demonstrate new LED strobes for the inspection of surface and print quality. Visitors to the Unilux booth will be able to demo the new strobes and learn how these inspection tools can be put to use in their application.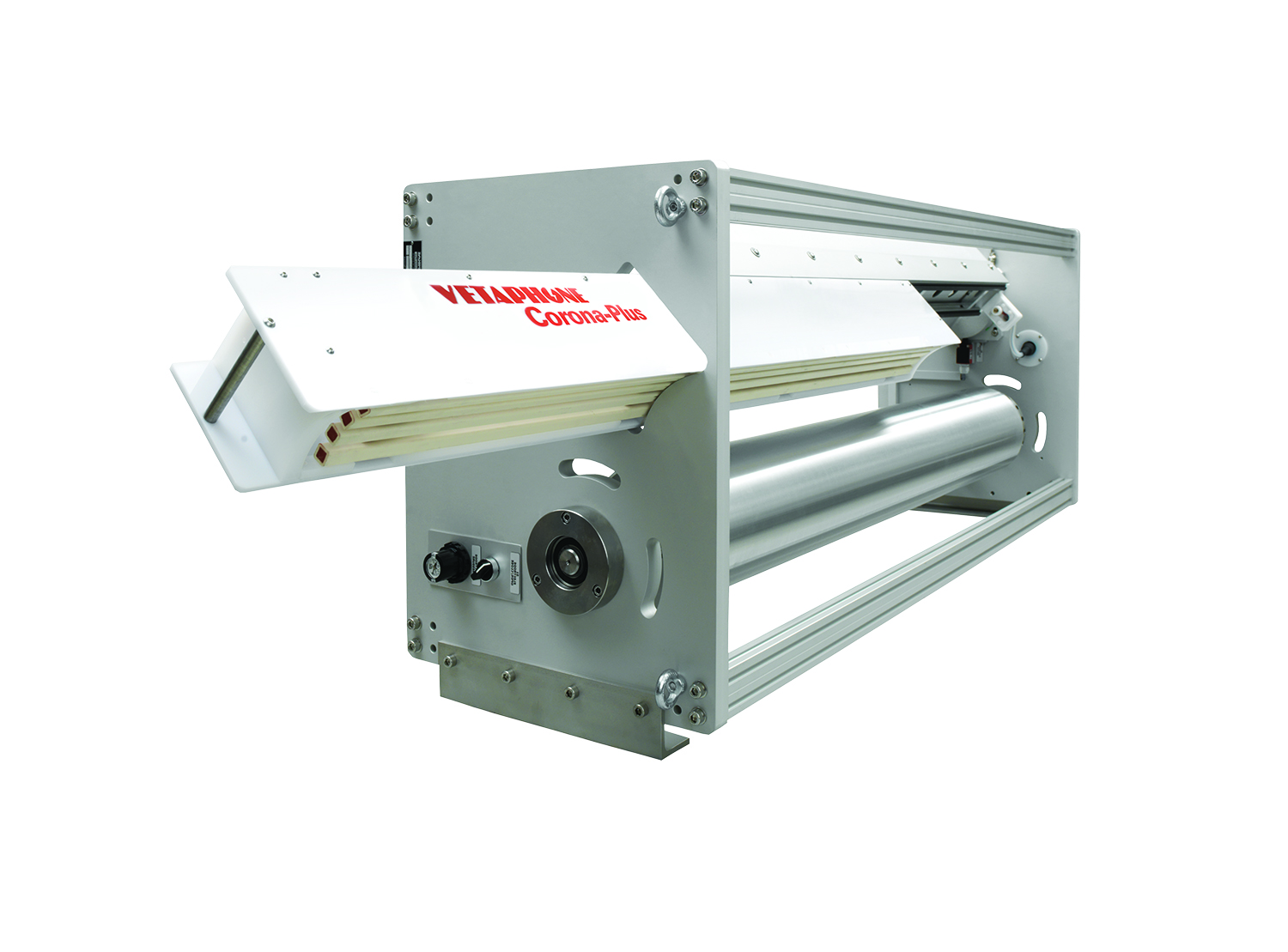 Vetaphone (Booth #521) the leading manufacturer of corona surface treatment and the inventor of corona technology, will be displaying its VE1C-A corona treater station. Vetaphone will have specialists on hand to answer any questions about its corona systems, and any adhesion challenge relating to products.
For more information on ICE USA 2017, to see the full conference schedule, or to register to attend the show, visit www.ice-x-usa.com or contact Mack Brooks Exhibitions Inc. at 866-899-4728 or This email address is being protected from spambots. You need JavaScript enabled to view it..