Published: January 01, 2011, By By Bill Hornell and John Chrysikopoulos, Mesirow Financial
It sure has been an interesting past three years. At the end of 2007, the stock market was riding high, the global economy was growing nicely, and while there were some rumblings about the sub-prime mortgage market, the financial world seemed pretty content. Needless to say, that all changed in the fall of 2008.
It has been a long journey since then, and while the financial markets have definitely improved, there is certainly no assurance that the financial challenges are behind us. Today, the US economy struggles with high unemployment, modest growth, and still high levels of private and public debt. Furthermore, there are sectors of the US economy, such as housing, that continue to be very depressed.
Against that backdrop, however, there are reasons to be optimistic. Corporations have proven themselves to be extremely resilient and have managed to grow revenues and profits in a challenging environment.
This healthy performance has been recognized and rewarded through improved public equity markets. In addition, accommodating monetary policy has resulted in vibrant debt markets, as evidenced by record levels of issuance with record low borrowing costs.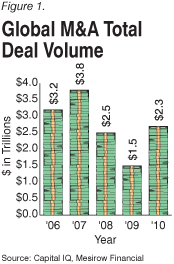 Given the strong profit performance by corporations, it is not surprising that merger and acquisition (M&A) activity has picked up as well. As demonstrated in Figure 1, global M&A rebounded nicely in 2010 and has approximated the 2008 levels.
The year 2010 was characterized by prudent, growth-oriented, strategic buyer transactions (Caterpillar/Bucyrus, Coca-Cola/Coca-Cola Enterprises, Novarti/Alcon). Credit markets were particularly receptive to investment grade issuers using proceeds to finance acquisitions.
The search for yield by investors also contributed to robust high-yield markets. Issuance levels in 2010 exceeded the levels of each of the past two years. Approximately two-thirds of the high-yield activity was used to refinance existing debt, but as the year unfolded, more proceeds were used to finance acquisitions, including leveraged buyout transactions.
As Figure 2 indicates, there was a noticeable pickup in leveraged buyout activity. While it is certainly unlikely that buyout volume will return to 2007 levels, given the large amount of private equity money available for investing, it would not be surprising if the $10 billion buyout deal returns.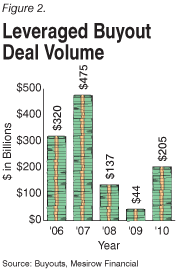 The packaging marketplace also demonstrated improved M&A activity in 2010. There was a nice mix of large strategic acquisitions (Reynolds Group/Pactiv), large buyout activity (Madison Dearborn Partners/BWAY), and middle-market private equity transactions (Wellspring Capital/Jen-Coat, KRG Capital/Fort Dearborn, and Castle Harlan/Pretium Packaging).
Figure 3 shows the resiliency and relative consistency of the packaging industry. According to Mesirow's research, almost 60% of the transactions in the packaging industry in 2010 were backed by private equity groups. The financial sponsor community has always been attracted to the relative stability of the industry. As the Great Recession of 2008 demonstrated, the packaging industry has proven to be less cyclical than industries such as housing, construction, marketing, financial services, and automotive.
Transaction activity in packaging also benefited from an improvement in stock market valuations. As outlined in Figure 4, valuations for paper and plastic packaging stocks as measured by enterprise value to EBITDA multiples either remained steady or improved in 2010. Higher public company valuations often lead to higher levels of M&A activity, as companies can use their stock as an acquisition currency.
Not surprisingly, given strong equity and debt markets, low interest rates, and healthy M&A activity, valuations increased for packaging companies in 2010. Figure 5 depicts the improvement in EBITDA multiples from both financial as well as strategic acquirers. It is not unusual for strategic buyer multiples to exceed those paid by financial buyers. In addition to the benefit of synergies, the strategic buyers often can help accelerate the growth prospects of the acquired company.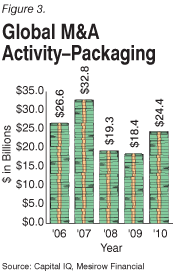 Outlook for 2011
M&A activity is expected to remain robust in 2011, driven by the following factors:
Gradual improvement in the economy
Continued strength in the equity markets
Continued low interest rate environment
Continued desire by strategics to grow and achieve synergies
Private equity continues to play an important role in packaging merger and acquisition activity. Private equity groups control hundreds of billions of dollars that need to be invested. This money was raised during the bull market of 2004 through 2007 and simply was not invested during the recession of 2008 and 2009.
The financial sponsor community continues to view packaging as an attractive industry due to its relative stability during economic cycles. In particular, middle market packaging companies are in demand, as these businesses are viewed as scalable into larger businesses.
Strategic buyers also will continue to remain active. Companies such as Rock-Tenn, Amcor, Bemis, Printpack, International Paper, and Rank Group have demonstrated a commitment to M&A as a viable growth option. The best strategic acquirers not only understand the risks and opportunities associated with M&A but also invest significant managerial capital post-close to help assure a smooth transition.
Bill Hornell is a managing director in the Investment Banking Group at Mesirow Financial, Chicago, IL. He has completed more than 70 packaging merger and acquisition transactions. A significant majority of these transactions involved consumer packaging businesses. Contact him at 312-595-6176 or at This email address is being protected from spambots. You need JavaScript enabled to view it.; www.mesirowfinancial.com.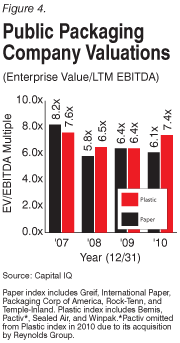 Managing director John Chrysikopoulos joined Mesirow Financial in 2009. He has 14 years of investment banking experience, nine years of equity research experience, and has participated in numerous high profile paper and packaging transactions. Located in New York, he can be reached at 212-351-8181 or at This email address is being protected from spambots. You need JavaScript enabled to view it..
Corrugated
Independent corrugated converters saw shipments increase during 2010 as the manufacturing sector recovered from its earlier deep recession. While an inventory correction may dampen some growth early next year, US market conditions for the full year should provide the potential for most independent boxmakers to increase their shipments again in 2011. — Steve Young, President, Assn. of Independent Corrugated Converters
Flexo Printing
The year 2010 was definitely a turnaround year for many companies in the flexo industry as compared to '09…FTA included. The concern that loomed as companies tightened their purse strings during the depths of the recession was replaced with a more progressive, albeit guarded optimism as the year progressed. All indications point to 2011 as exhibiting an extension of this year with business steadily improving as the economy continues to grow slowly. — Mark Cisternino, President, Flexographic Technical Assn./Foundation of Flexographic Technical Assn.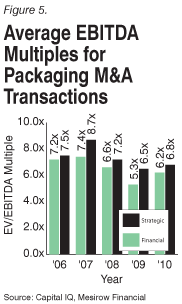 Flexible Packaging
The 2011 outlook for the US flexible packaging industry is very optimistic and follows a relatively positive 2010. The flexible packaging industry is recovering well from the "Great Recession of 2009" when, for only the second time in well over two decades, it experienced a negative 2% growth.
For 2010, flexible packaging is expected to show positive growth of 2.5% to about $27 billion and growth of 3% to about $28 billion for 2011. One of the benchmarks for flexible packaging is that it historically grows between 0.5% and 1% ahead of US GDP.
The growth of flexible packaging continues to be driven by innovation in materials, structures, and graphics, providing great consumer convenience, shelf appeal, and sustainability advantages.
— Marla Donahue, President, Flexible Packaging Assn.
Tags/Labels
The year 2011 ushers in new opportunities for the narrow web marketplace. As inventories continue to climb back up from historical lows, converters are bringing a renewed focus to their investment and growth strategies for the coming year. We'll see market forces like capital equipment procurement and consolidation rates rise through 2011 as companies move forward with expansion plans and investments.
TLMI remains keenly aware that our role as a prominent industry association is to ensure that our converter and supplier members have the tools and resources they need to forge ahead in this ever-shifting marketplace. — Frank A. Sablone, President, Tag & Label Mfrs. Inst.
Paperboard
In 2008 and 2009, folding carton shipments fell more than 5% below 2007 and are only expected to rise by about 1% in 2010. Our industry's greatest challenge is to vigorously communicate the sustainable advantages of paperboard. If we can successfully educate the consumer and the markets we serve that the recyclability and renewability of folding cartons and rigid boxes is unmatched by any other material, our rate of recovery will accelerate.
— Ben Markens, President, Paperboard Packaging Council
Gravure Printing
Membership in the Packaging and Label Gravure Assn. continues to grow at a 6%-8% rate per year, while we have continued to see consolidation in regard to gravure printers. Market share in North America remains constant, though it seems to be gaining on the high-end convenience consumer products areas.
I have heard many comments that high-end flexo printing that may, in some opinions, rival the quality of gravure, also has prepress costs that actually exceed those of gravure. Look for the gravure industry to continue to develop more cost-effective ways to produce the gravure-printed product. Gravure also is being considered a green process in that there are no printing plates to be sent to the landfill when they need to be disposed of.
— Jim Lepp, Executive Director, Packaging & Label Gravure Assn.
Coating/Laminating
AIMCAL members report continued improvement throughout 2010. Last year in this forum, I expressed thoughts that the worst is behind us — and that appears to have held true. Strong activity is reported in all converter and supplier sectors, with cautious optimism that the trend will continue through all of 2011. — Craig Sheppard, Executive Director, AIMCAL-The Assn. of Intl. Metallizers, Coaters and Laminators
Pulp & Paper
I remain optimistic for 2011 with TAPPI reporting black ink for three consecutive years and growth in membership, requests for training, and overall attendance at TAPPI events. There is a new attitude due to many acquisitions by private equity firms and others from inside and outside our industry.
At a recent meeting, 54 supplier companies all reported better sales years in 2010 over 2009 to the tune of 9%-20%. In the US, seven new corrugators were ordered for delivery in 2010.
Our industry is hiring. As of February 2010, 27% of all US engineers reached retirement age.
The TAPPI team made 60 corporate visits during FY2010 where we experienced a sense of optimism at nearly all of these visits. — Larry N. Montague, President/CEO, TAPPI
In-Mold Labels
In-mold labeling in North America has shown a moderate uptick in most areas with particular strength in injection. New thermoform IML capacity is scheduled to come on-line in 2011. — Ron Schultz, Executive Director, In-Mold Decorating Assn.