Published: January 19, 2016, By Claudia Hine
Get ready to embrace change as GOA brings together North and Latin American printers with new technology exhibits and bilingual seminars.
The 41st edition of Graphics of the Americas (GOA) conference and expo will take place February 18–20 at the Miami Beach Convention Center in Miami Beach, FL. With a theme of "Embracing Changes in a New Business Landscape," attendees can expect to find the equipment and solutions show officials report they are looking to buy. Organized by the Printing Assn. of Florida, officials say the attendees reported they plan to spend more than $268 million on products and technology within the next 12 months.
GOA President James Martin says, "Wide format sign and display, direct to garment, vehicle wraps, and variable short through long length runs will be shown on offset, hybrid, and digital presses of very type. We have partnered with the biggest names in the industry to feature the most profitable and talked-about solutions on the market today>"
Show floor features of interest to converters include The FlexoZone, sponsored by Nilpeter, that will show the latest innovations in flexography. New this year is the Short Run Digital Label Center, sponsored by UPM, Kompac, and UniNet. The Print It On Zone showcases paper substrate manufacturers.
Explore opportunities in wide format markets at the Wide Format Print Shop Live!, sponsored by HP, Caldera, Zund, and Gilman Brothers. Learn more about 3D printing and watch demos at the 3D Printing Zone. The Vehicle Wrap Center features live demonstrations of vinyl vehicle wrap installations, and the Wrap Cup Americas vehicle wrap competition will pit contestants against each other for a chance to win $100,000 in prizes.
The show also offers garment decorating areas with an OKI-sponsored Direct to Garment Center and a new Epson-sponsored Dye Sublimation Application Center. Graphics of the Americas will host the Epson Digital Couture Fashion Show on Friday, February 19, at 5 p.m. Complimentary event registration is available on a first-come, first-served basis at www.GOAexpo.com. The Epson SureColor F-series printers will show the viability of dye sublimation garment printing at the runway-style show.
For a floor plan and list of exhibitors, click here
Educational Offerings
GOA's seminar tracks will cover Prepress & Production, Sales & Marketing, Management, and Wide Format. American Graphics Inst. will run seminars in Design & Creative, Photoshop, and InDesign & Publishing. More than 50 seminars will be presented, including many in Spanish.
For a complete list of seminars, click here
GALA Awards Luncheon
A special luncheon will be held February 18 to honor Hector Cordero Popoca as the 2016 Graphic Arts Leaders of Americas (GALA) Award winner. The GALA Award is given to professionals who excel in management, technology, business, and quality. Those selected significantly contribute to the graphic arts industry and give back to the community. Members of the Printing Industry of America and Conlatingraf associations nominate the award recipients.
Also being honored is Elena M. Galofre Cesareo as the 2016 Young Entrepreneur Award winner. This award is given to a new generation of business leaders who are furthering the communications industry.
Reservations for the luncheon are required; tickets are for sale at www.goaexpo.com.
Graphic Arts Leaders of the Americas Award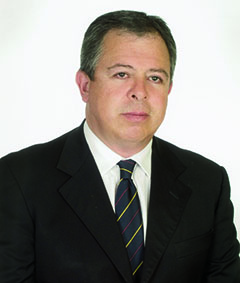 Hector Cordero Popoca is a prominent industry figure due to his involvement with various associations and his work to improve industry communication. He was born in Mexico City into a family of printers. He attended the Pan American Inst. of Business Management and graduated with an MBA. He went on to establish Quincor SA de CV, a graphic arts company that, together with Aquarela Grafica SA de C.V., comprised the Cordero family group of companies.
Cordero Popoca held various positions with the Mexican Industrial Group of Graphic Arts Companies (SIAG) to represent the interests of smaller graphics companies in Mexico. He was elected president in 1996. He was instrumental in working with the Mexican government to authorize the importation of a large quantity of duty free printing stock, which increased industry competitiveness. After his term as SIAG president ended, he served as treasurer, VP, and then president of National Chamber of Graphic Arts Industries (CANAGRAF). He currently serves as VP of Conlatingraf.
Young Entrepreneur Award
Elena M. Galofre Cesareo is commercial director at Alfa Print S.A., Bogota, Colombia, known for selling high-end labels. Elena was introduced to flexography in 2008, when she began working at Tetra Pak in packaging sales management, working closely with the prepress department. A year later, she assumed responsibilities for the Andean market of Ecuador, Venezuela, and Colombia.
In 2011, she began working at her family's business, Alfa Print S.A., founded by her father, Jorge Enrique Galofre. She began as commercial assistant and, in the same year, completed a Certificate of International Production, offered by CIGRAF, together with SENA, sponsored by Andigraf and EAN University.
In her role at Alfa Print S.A., Elena analyzes process improvements, and reviews data and trends in order to recommend tools for business consultants to increase sales. This includes modernizing the flow of information, and developing better tools to remain competitive in an increasingly demanding market.
Show Hours
Thursday, February 18 — 10 a.m.– 5 p.m.
Friday, February 19 — 10 a.m.– 5 p.m.
Saturday, February 20—10 a.m.– 4 p.m.