Published: September 12, 2017, By Claudia Hine
"Sailing into the New World of Graphics" is the theme of the TAPPI's annual corrugated conference and exhibit, where digital printing is a hot topic.

TAPPI CorrExpo 2017 will be held October 16-18 at the Rhode Island Convention Center and Omni Hotel in Providence. The event kicks off on Sunday, October 15, with a Flexo and Rotary Diecutters Calibration Workshop (Sustain Board Caliper and Printing Capabilities). This two-part class is taught by industry veteran Dick Target of On Target Consultants. Part 2 of the workshop will be held on Monday.
Also taking place on Monday is an Intro to Corrugated Course presented by Jon Porter. This class is designed to benefit both novice and experienced professionals as well as sales representatives.

Following opening remarks on Tuesday morning by Larry Montague, TAPPI president & CEO, Olympic Gold Medalist Jim Craig will present the keynote address. Craig is president and founder of Gold Medal Strategies, a promotions and marketing firm. He was the goalie on the 1980 "Miracle on Ice" U.S. hockey team. The keynote is followed by nine 8-minute presentations on What's New, which is moderated by Ell Townsend, Packaging Corp. of America.
The Wednesday program opens with a Digital Printing Panel with representatives from Barberan, Durst, Xante, SUN Automation, EFI, and HP. Additional digital topics on the docket include the following:
Transitioning Your Graphics from Traditional to Digital Printing
Getting the Best Results with Digital
How to Get the Best Results from High Graphics
How to Maintain Productivity While Running High Graphics
Technology Behind the Digital Magic
Other topics include Operations Planning, Talent Crisis in the Corrugated Industry, Future of Quality Control and Inspection, and more. For a look at the full program, click here.
EXHIBITOR LIST
The exhibit hall is open from noon to 5:00 p.m. on Tuesday and noon to 4:00 p.m. on Wednesday. Bobst, Double E, Proton Products, and Sun Chemical are some of the 150+ exhibitors offering hands on and product demos during the expo. For a complete list of exhibitors, click here. To see the floor plan, click here.
Flexo Concepts (Booth 930) will promote its TruPoint Green doctor blade through its distribution partner, Stafford Corrugated Products. Green is a drop-in replacement blade for printers who want to produce mid-level graphics without having to run steel.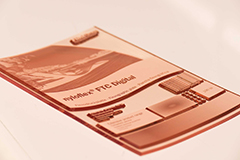 Flint Group (Booth 626) will discuss the benefits of selecting inks from its newly developed Corrugated Post Print Toolbox. The toolbox includes a full range of post print corrugated inks, including PremoNova and PremoCorr, with an extremely large operating window and outstanding transfer. Samples of the recently launched nyloflex FTC Digital flat top flexo plate for corrugated post print will be displayed. Said to reduce fluting and offer outstanding print quality. Also on display are dayCorr brand die-cutting blankets and anvil covers.
Pamarco (Booth 907) will show the latest offerings from the Absolute and Anilox Divisions, including state of the art carbon fiber chambers with ink-saving systems; glue and metering sets; and laser engraved anilox.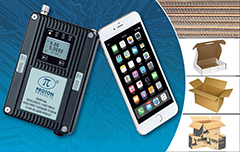 PROTON Products (Booth 619) will demonstrate InteliSENS SL/SLR Mini Series non-contact laser Doppler speed and length sensors. They are solid state instruments with no moving parts and are permanently calibrated and completely reliable. The compact InteliSENS mini-series sensors are designed to replace contacting speed & length measurement encoders with a sensor whose accuracy is better than ±0.05%. The sensor can provide speed and length measurement starting with a stationary product and communicate a set length contact output to the cutter for highly accurate board size. These affordable sensors also can be used at the "wet end" of a corrugator to measure the product length prior to the stacker to help reduce waste at the double facer. They can also measure the roll speeds at the unwind stands to reduce splice failures.
NETWORKING OPPORTUNITIES
Several social and networking events have been planned as follows:
Monday, October 16
The TAPPI golf tournament will be held at the Rhode Island Country Club in Barrington, RI, with a shotgun start at 9:00 a.m.
A sponsor thank-you reception begins at 5:30 p.m. at the Convention Center, followed by an event welcome reception at the same location at 6:00 p.m.
There is a Young Professionals Networking Event, which is being held at G Pub in Providence from 7:30–9:00 p.m.
Tuesday, October 17
A New England Clam Bake will run from 6:00–9:30 p.m. at the exclusive Squantum Association.
Spouse & Guest Program
Event coordinators have arranged a guest program that includes a tour of eateries on Tuesday and a tour of the RISD Museum on Wednesday.
To register for CorrExpo, click here.