Published: October 03, 2016, By Christine Pietryla Wetzler
The four-day event will feature over 2,300 exhibiting companies and span more than 1.2 million net square feet of exhibit space. Conference organizers expect to welcome more than 50,000 attendees.
Pack Expo International 2016 is arriving Nov. 6 – 9, 2016 to Chicago's McCormick Place. The four-day event will feature over 2,300 exhibiting companies and span more than 1.2 million net square feet of exhibit space. Conference organizers expect to welcome more than 50,000 attendees.
An exciting part of the conference schedule will feature a performance by Penn & Teller on Monday, Nov. 7, 2016, as part of the show's "Pack Gives Back" initiative. Sponsored by DuPont Packaging and Rockwell Automation, the event benefits No Greater Sacrifice (NGS), an organization dedicated to providing support to the children of our nation's fallen and wounded service members.
This year also marks the inaugural NextGen Networking Fair, a new event from PMMI, offering a one-of-a-kind matchmaking opportunity for exhibitors and attendees to connect with the emerging workforce. Sponsored by B&R Industrial Automation, the event debuts on Sunday, Nov. 6, 2016, from 3:00–5:00 p.m. in the Education & Workforce Development Pavilion, in the North Mezzanine of McCormick Place. The event provides employers in the processing and packaging industry the opportunity to meet and connect with a targeted audience of talented students from packaging, processing, materials, package design, and mechatronics programs.
In addition to providing world-class entertainment, networking, recruiting, and charitable opportunities, Pack Expo 2016 will also provide unprecedented chances to learn more about new technology through a series of presentations at four Innovation Stages on the show floor. These learning hubs will offer 30-minute seminars on breakthrough ideas and technologies conducted by exhibitors and industry thought leaders.
A full conference program for Pack Expo International 2016 is online for viewing (link).
Other show floor features will encourage networking and continual education including:
Reusables Learning Center, where attendees can learn about integrating reusables into the supply chain, thus maximizing profits and sustainability simultaneously
Beverage Cooler lounge, a networking and learning center for the beverage industry
Baking & Snack Break lounge, where attendees from the baking and snack industry can gather and meet with subject matter experts
Candy Bar lounge, a dedicated area for attendees in the confectionery industry to recharge, network and gather timely industry information
Showcase of Packaging Innovations®, where attendees from every vertical can view award-winning packaging from around the globe
Clemson University Consumer-Driven Package Design, an insightful and fascinating exhibit exploring the impact of packaging on consumers
To plan your exhibition experience, consider the Pack Expo International 2016 mobile app. The app allows you to:
Search exhibitors, products and education sessions
Create and save a personal agenda for all four days
Access your plan anywhere
Map your route around the show floor on interactive floor plans
Keep schedules and transportation info handy
Show Hours
Sunday, November 6: 9 am – 5 pm
Monday, November 7: 9 am – 5 pm
Tuesday, November 8: 9 am – 5 pm
Wednesday, November 9: 9 am – 3 pm
Booth Descriptions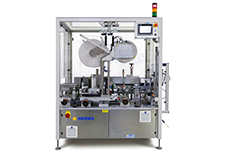 Aran U.S.A., part of the Aran Group. (Booth #E-10419), provides a full range of solutions from advanced barrier film structures, special filling and dispensing fitments and high-performance aseptic bag technologies. The company's liquid packaging technologies allow for nearly 100 percent extraction of contents so that food waste is virtually eliminated.

Colordyne Technologies (Booth #N-6169) will show the 2600 Series Mini Press, a mid-range roll-to-roll printing platform capable of printing high resolution full color labels and packaging. Features an on-press job library enabling the operator to quickly navigate, sort, and select the files to be printed. Capable of printing at speeds of 60 ft/min (18 m/min) and resolutions up to 1600 x 1600 dpi.
Epson (Booth #E-75557) will show is full line up of ColorWorks on-demand inkjet label printers, including the ColorWorks C7500G with Wasatch SoftRIP, the newest addition to its line. Also showing the 24-in. SureColor P7000 printer for proofing in packaging and labeling materials.
Esko (Booth #N-6328) will feature Software Platform 16 including four popular components: ArtiosCAD and Studio for 3D structural and graphic design, WebCenter for specification, process management & collaboration, and MediaBeacon for digital asset management.
HERMA US Inc. (Booth #W-694), will present its tamper-evident labeling machine with serialization capabilities.
The solution can outfit a wide range of pharmaceutical cartons with anti-counterfeiting and track and trace features. Compact and user-friendly, the machine enables each individual carton to be printed with a unique identity and 2D matrix code. The data from all serialized cartons is stored, allowing each pack to be traced back to the manufacturer at any point in the supply chain.
ITW Dynatec (Booth #N-5725), a global leader in bonding and sealing applications, will feature smart hot melt solutions designed for 'today and tomorrow.'
Klöckner Pentaplast (Booth #E-8118), will display applications of a wide range of packaging solutions including the recently developed Pentafood® clikPET packaging design. Its solution is a PET-based technology for yogurt packaging designed to be used on major FFS lines, seals, labels and trays. This technology extends the shelf life of yogurt products up to 10 days.
LasX Industries (Booth #W-785), a leading manufacturer of custom digital laser converting equipment and process development, will be featuring the company's CartonsInMinutes® packaging solution.
Maxcess Intl. (Booth #S-2147) will debut its Valley Roller product line since its acquisition of the company in 2015. Will feature hands-on demonstrations from Valley Roller alongside the latest innovations from Webex, Fife, Tidland, and MAGPOWR.
Mondi North America (Booth #E-7914), will exhibit a sweeping array of flexible packaging products ranging from consumer and industrial solutions to laminating films and innovative plastic and paper-based barriers. Applications include food, pet food, beverages, motor oil, detergent, building materials, pellets and fertilizer.
NOVEXX Solutions (Booth #E-10620) will launch the XLP 504 label printer for printing bar codes, fonts, and graphics in high quality. Also showing the XTP 804 single tag printer for use on tags, blister cards, cardboards, and tickets.
Process Sensors (Booth #E-7352) will showcase the Guardian Web Profile Scanning Frame System. Moisture, water-based coat weight, film thickness, and organic deposition measurements can be made on a variety of substrates.
Rockwell Automation (Booth #N-4570), will provide educational programming addressing top-of-mind challenges and trends on the Innovation Stage. Presentations will focus on track and trace, remote monitoring, and smart machines.
Sappi (Booth #E-10328) recently restructured its containerboard product range to provide new and improved solutions for the corrugated cardboard market. This includes the bright white Fusion topliner as well as corrugating liner & fluting Ultraflute. Showing two new products including heavyweight Lustercote. Will be showcasing its premium packaging line, Algro Design.
Sun Chemical (Booth #N-4876), will show attendees how ink and specialty coatings help packaging pop, barrier coatings can enhance the shelf life of a package, a laser marking solution can improve productivity, and brand protection offerings will increase package security.
Toray Plastics (America), Inc., (Booth #N-5879), will feature its advanced Torayfan® OPP and Lumirror® PET film technologies. The company will update attendees about its participation in the HP Indigo Pack Ready program.
UPM Raflatac (Booth #N6275) will have four distinct areas where visitors will be led through the material and packaging value chain: sustainability, efficiency, design, and functionality. Will show new PP and PET options to its metalized and foil product family.
Valley Roller (Booth #S-2147): See Maxcess Intl.
Windmöller & Hölscher Group (Booth #E-7955), with its subsidiaries BSW Machinery and Garant Maschinenhandel, will the range of paper, plastic and polywoven bags and sacks that can be produced on the company's multiwall, FFS and converting machinery. Garant will run demonstrations and job changes on the new TRIUMPH 2-T8 block bottom bag machine.
For a complete list of exhibitors, click here.