Published: September 22, 2016, By Claudia Hine
Venture to the Trade Fair for Plastics in Germany to see the raw materials you'll soon be converting.
Messe Düsseldorf bills K 2016 as "The World's No. 1 Trade Fair for Plastics and Rubber." As such, the show organizer has scheduled a full eight days—October 19-26—to present raw materials, machinery, equipment, and services to the converting industry.
The show will run daily from 10:00 a.m. to 6:30 p.m. at the Fairgrounds in Dusseldorf, Germany. It will feature a number of special events throughout the week.
Plastic Developments
A special presentation, "Plastics shape the future," will be held in Hall 6 at Booth 6/C40. A project of the German plastics industry under the leadership of PlasticsEurope Deutschland e.V. and Messe Düsseldorf, the program will highlight developments already underway and a vision for tomorrow. Themes such as lightweight design, marine litter, and economic matters will be addressed.
Science Campus
The Science Campus—a forum where businesses and universities can exchange information—provides exhibitors and visitors with an overview of scientific activities and results in plastics research. Launched at K 2013, the event is intended to intensify the discourse between science and industry. Four central issues will be the focal topics for 2016:
Resource efficiency
Digitization of value added chain
New materials
Lightweight engineering
Booth Descriptions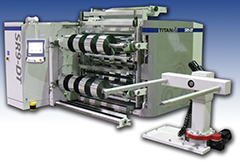 Atlas Converting Equipment Ltd. (Hall 3, Stand 3B91) is celebrating its 40th anniversary as it presents its range of primary and secondary slitter/rewinders. Atlas slitter/rewinders can accommodate 10.6m wide unwind rolls and process them at speeds of 1500 m/min (5000 fpm). Titan secondary slitters comprise the small footprint ER610, the flexible SR800, and two models of the SR9 series, one a duplex slitter/rewinder, the other a duplex turret machine.
BOBST (Hall 4, A39) will present details of the new BOBST K5 Expert metallizer, which allows users to take advantage of the new AluBond process for advanced metal adhesion technology. Solution Masters from four Competence Centers dedicated to flexible materials technology will take visitors through their options for achieving process performance excellence, whether it be in vacuum web coating and metallizing, coating, extrusion coating and laminating, or printing and laminating. Details of the latest additions to the BOBST range of CI and inline flexo printing, gravure printing, and laminating machines also will be available, including the BOBST Digital Flexo process, which provides for fully digitized press operation and non-stop production on BOBST inline UV flexo presses.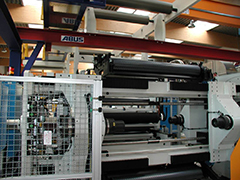 Davis-Standard (Hall 16, A43) will exhibit a high-speed unwind engineered for splice speeds up to 800 m/min (2,600 fpm) for sensitive, thin webs. Features pneumatic splice-unit control for improved processing and functionality. Engineered for extrusion coating applications involving aluminum foil and PE films. Unwind is capable of roll diameters from 300–1000mm (11–40 in.) with a maximum diameter of 800mm (31 in.) for aluminum foil, and a maximum roll weight of 1800 kg (4,000 lb). Ideal for aluminum foil webs ranging from 6–20 µm and PE films from 30–100 µm. Can be used as primary unwind for flexible packaging lines that process a range of substrates, including paper up to 150 gsm. Also showing the high speed 75mm, 40:1 extruder that offers processing versatility due to a favorable surface to volume ratio when compared to conventional extruders. Can be supplied with a direct drive AC motor or permanent magnet synchronous motor configuration. Model offers energy savings compared to traditional systems. Screw speed and drive unit can be adjusted to accommodate different processing conditions.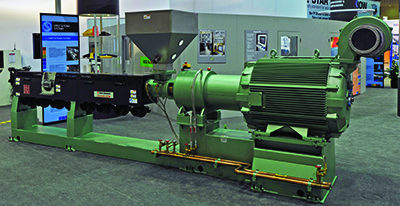 DuPont Performance Materials (Hall 6, Stand 6C43) will showcase versatile polymers that can virtually replace metal in any application to improve its design, enhance its performance, lower its cost and ultimately to conserve precious finite resources.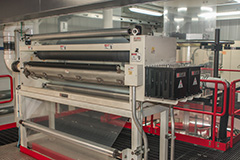 Enercon Industries (Hall 11, A68) will display blown film treatment technologies and its complete range of surface treating systems—corona, atmospheric plasma, and flame. Visitors will see specifically designed corona treaters for blown film lines with capabilities for fixed width, line, and pattern treatment. Printing, coating, and laminating converters of film will see the latest electrode, ground roll, and power supply designs for improving film and label stock surface adhesion. Live demonstrations of in-line plasma and flame treatment of objects. Super Seal Touch cap sealer will be in operation showcasing its touch screen interface and reliable induction sealing capabilities.
ExxonMobil Chemical (Pavilion FG04) will demonstrate how new Exceed XP performance polymers can help customers in a variety of industries create differentiated solutions that provide extreme performance. Also will display the recently introduced Enable 40-02 performance polymers for compression packaging and geomembranes, as well as a range of low viscosity Vistamaxx performance polymers for home and consumer products and an array of other applications.
GOEBEL IMS (Booth 3B73) will present a new primary slitter series suitable for converting capacitor films, battery separator films or thick films for industrial or optical applications. Available either as a basic machine or with advanced technical functions and automation technology, the slitter processes widths between 4,000 mm and 7,500 mm and offers maximum flexibility. A vintage slitter/rewinder that was sold in 1939 and was used to produce films until 2016, will be shown to the public. Also presenting the newly designed MONOSLIT series, comprising the MONOSLIT, with a working width of up to 9,000 mm, and the MONOSLIT GIANT, with a 12,000 mm working width. Designed for converting a broad spectrum of films. Also showing the newly developed XTRASLIT 2, a universal machine that allows for comprehensive adjustments and extensions for special applications, e.g., polyester films for optical fields.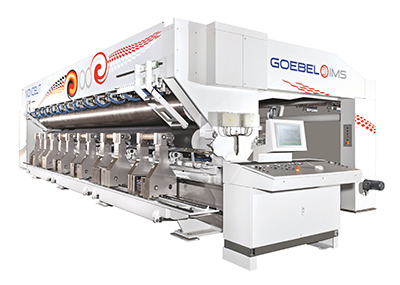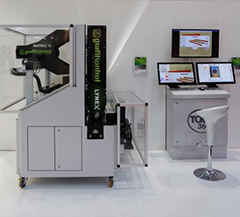 Grafikontrol (Hall 4, C57) will demonstrate its LYNEX, MATRIX, and CHROMALAB press control systems for application in the manufacturing process of plastics from extrusion to printing. Also presenting its CR33-CR34 register color control systems and the PROCHECK system for waste management.
Kreyenborg (Hall 9, A55) will present a pneumatic conveying system for bulk material handling. Conveyors have geometries that avoid bridging or even have internal bridge-breakers. Will present new PET-BOOSTER, a continuously operating system that dries PET within 7-10 minutes. Focus is on applications in extrusion of plastic films and fibers with degassing extruders (twin-screw, planetary- and multi-screw-extruders). Universal Quick Mixer features extremely precise mixing and homogenizing of bulk materials with limited flow properties. The Masterbatch Mixer offers fast and gentle mixing and homogenizing of sensitive bulk materials.
NDC Technologies (Hall 10, H42) will show advanced solutions for in-process and on-line measurement of plastics, with working demonstrations of measurement and control solutions. Will feature the new FilmPro infrared gauge, which uses advanced optical techniques to measure a wide range of film and sheet properties with high precision. Can measure the thickness of clear, voided, pigmented, cavitated, porous, translucent colored, and even black tinted films.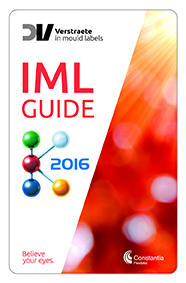 Verstraete IML (Hall 5, B37) is the preferred partner for 16 IML systems at the show. Company has compiled a handy IML guide for visitors, available at www.imiguide.info. Will release its new "Believe your eyes" product line at the show.
Windmoeller & Hoelscher (Hall 17, A57) will introduce several innovations and present its comprehensive product portfolio for the production of flexible packaging. Details about the new technologies will be announced at the beginning of the show.
For a complete list of exhibitors, click here.