Published: July 22, 2016
RESTON, VA | When GRAPH EXPO 16 convenes September 25–28 at the Orange County Convention Center-North in Orlando, FL, the MUST SEE 'EMS program will again be a part of the event.
The program is presented by show organizer Graphic Arts Show Company (GASC) for the past 17 years. The awards are categorized to closely align with the interests of potential equipment buyers, and the program recruits a panel of industry experts to review the hundreds of submissions to identify the products and exhibits that show goers simply "must see."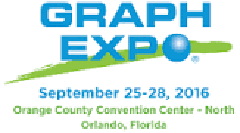 "MUST SEE 'EMS offer exhibitors a highly effective tool for calling attention to their most exciting new products onsite at the show," says GASC president Thayer Long. "This year's show will absolutely have its share of truly compelling new product, software, and equipment introductions, many to be seen for the first time in the US, and the MUST SEE 'EMS provide a roadmap to see them all."
The results of this year's MUST SEE 'EMS technology and product recognition program will be presented at the EXECUTIVE OUTLOOK Conference, on Sunday, September 25, 2016, the day the exhibition opens. While winners will be announced in advance of the show, those to be revealed at EXECUTIVE OUTLOOK will include the "Best of Category" Awards—one from within each of 11 categories, and the fifth annual "Legacy Award," which is designed to salute one past MUST SEE 'EMS awardee whose technology or product has made a lasting impact on the printing industry.
This email address is being protected from spambots. You need JavaScript enabled to view it.