Published: July 30, 2015, By Claudia Hine
CPP attendees will have all-access admission to Graph Expo, Process Expo, and the co-located Intl. Dairy Show and InterBev Process shows.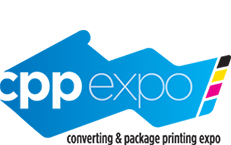 CPP Expo returns to McCormick Place in Chicago, IL, September 13-16. Show organizer H.A. Bruno promises an exclusive converting focus into revolutionary printing technologies that will impact your future. Once again, CPP will be co-located with Graph Expo, organized by Graphic Arts Show Co., in the South Hall, while Process Expo—co-located with the International Dairy Show and InterBev Process shows—runs September 15-18 in the North and East Halls.
During the two-day overlap, attendees will have all-access admission to the exhibit halls for all events. Organizers say the concurrent events will offer a first-of-its-kind opportunity for printers, packagers, processors, and converters to intermingle and explore the global scope of these vital facets of the graphic communications and packaging/processing industries. Organizers anticipate 15,000 industry executives will be in attendance.
Show floor exhibits will be enhanced by educational programs—many featuring PFFC's expert columnists. Subjects will include slitting/rewinding, coating/laminating, flexographic and digital printing, food packaging, and more.
Spotlight on 3D
A new pavilion, Everything Print, will focus on 3D printing, which the show company reports is anticipated to reach $6 billion by 2016 and to nearly double in value to $10.8 billion in 2021.
A collaboration of CPP Expo, GASC, and the Society for the Plastics Industry (SPI), the pavilion will demonstrate new revenue-building print applications offered by 3D printing technologies.
Conference Program
Three days of educational programming will be offered at this year's show, from full day fundamentals classes—offered by CEMA/AIMCAL and All Printing Resources—to one-hour presentations by industry veterans, including PFFC's own expert columnists. CEMA/AIMCAL will produce the daylong Slitting & Rewinding Fundamentals and Coating & Drying Fundamental seminars on Monday, September 14. All Printing Resources will present the daylong "Flexo Unraveled" and "Process Color Printing & G7—A Flexo Perspective" on Tuesday, September 15.
Dene Taylor, PFFC's "On Print" columnist, will cover the following printing topics:
Advances in Food Package Printing with Inkjet: Aqueous Inks.
Does 3D Printing with Inkjet Complement Your Production?
Inkjet Technologies: Printing Substrates and Inks for High Performance Labels
UV/EB Printing for Food Packaging Is Gaining Share
Single Pass UV/EB Inkjet Breakthroughs for Industrial Applications
Taylor's presentations will be complemented by sessions provided by Vince Cahill, president of VCE Solutions. He will cover the following subjects:
The New Success Model: Coordinating Promotion from Computer to Print to Packaging
Adding Punch to Packaging with 3D Print & Enhancement
Intelligent Packaging: RFID Purity Sensors and More with Printed Electronics
Supplementing & Enhancing Flexography, Gravure & Lithography with Digital Print
Kelly Robinson, PFFC's "Static Beat" columnist, will address:
Flexo Printing, Gravure Coating, and Lamination–Static Control
Jeff Wettersten, president, Karstedt Partners, will offer:
New Options for Inkjet Package Printing
For a complete list of educational sessions, click here.
Must See 'Ems
Graph Expo has announced the winners of its popular Must See 'Ems competition. Representing advances in 11 categories, these innovative technologies are chosen by a panel of industry experts. A free live pre-show webinar featuring the Must See 'Ems will air on Tuesday, August 25, at 1:00 p.m. EDT. The webinar, New Technologies from Graph Expo 15 Must See 'Ems," will be hosted by the program's coordinator, Hal Hinderliter, and presented via www.myprintresource.com.
To see all the winners, click here.
Booth Listings
Here are booth descriptions for some of the CPP Expo and Graph Expo exhibitors of special interest to converters. To see a complete list of CPP Expo exhibitors, click here. To see the CPP Expo floor plan, click here.
API Foils will show its SL Grade Foil in the MGI Digital Technology booth #3014. MGI will be running the foils on its presses. API experts will be available to meet with attendees for in-depth discussion of emerging foil products, such as the company's new MV-Plus hot metallic foil and TA Series over-printable, flexo, web-fed cold foil products. The show directory will include a tip-on card will feature API's SL Grade Oriental Gold Foil.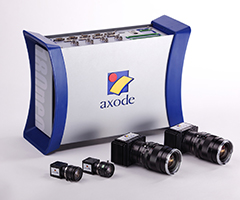 Axode Corp. (Booth 1961) will demonstrate print quality inspection solutions for color registration, color matching, defect detection, and variable graphic quality inspection. The company will show track and trace technology that tracks pieces, jobs, bundles, and boxes throughout production, across multiple locations, and through warehouse and retail locations, including in-store authentication and anti-counterfeit solutions.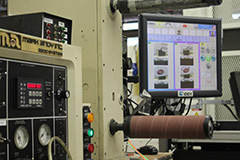 CC1 (Booth 1861) will unveil the user-friendly DRC 6000-L Automatic Register Control for the narrow web flexo market. It establishes running and side registration automatically, even if register marks overlap. Make ready savings of 50%-75% and increased presss capacity by reduced job setup time have been reported. The system expands upon existing options of the company's camera-based automatic register models, including time and date stamped register variation analysis reports, unit-to-unit compensators, and register motorization packages.
CGS (Booth 645) will show IC3D Suite, which allows users the ability to easily create 3D models, apply artwork in real-time, and ultimately share how the package will appear in production. It dramatically reduces revision timelines and eliminates the need for multiple rounds of mock ups/samples. One piece of software is capable of creating all forms of packaging; no need to purchase any additional modules.
CHILI Publish (Booth 441) will show a Pageflex to CHILI Publisher connector developed by a renowned web-to-print developer, giving Pageflex Storefront users unique and comprehensive CHILI Publish editing, as well as 3D and animated folding job visualization. Improvements include more HTML5 support options, including an HTML 3D viewer, and copyfitting across multiple frames. Company executives will participate in panels being held at the Printerverse Theater on the show floor.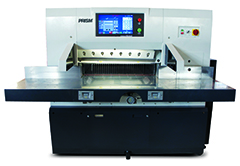 Colter & Peterson (Booth 3625) will introduce the Prism P115 paper cutter, a 45-in. machine that features a new slotless table and is described as durable, affordable, easy to operate, and very cost effective. The cutter is equipped with a Microcut 15-in. touch screen, which is a computerized backgauge system that can improve productivity by as much as 50%.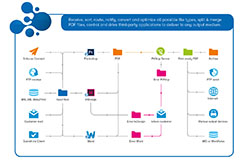 Enfocus (Booth 444) will show version 13 of its Switch automation solution along side PitStop Pro 13, PitStop Server 13, and Connect 13, which have all been upgraded to include numerous features. Switch 13 builds on the first web browser-based interface, tighter control of flowcreation, easier flow visualization, and significant speed improvements, as well as compatibility with the new Windows 10 operating system. New features in PitStop 13, Pro and Server, give printers the PDF quality they need for smooth, efficient production. Users report that the features included in this release solve their most problematic PDF quality challenges, such as missing bleeds. The ability of limiting the quality check or the fixes to certain parts of a file makes the process more accurate and specific.

The Foil & Specialty Effects Assn. will present an education session entitled, "ABC's of Print Enhancements: How to Deliver High Value & Rockin' ROI," from 10:30 to noon on September 15. It will be hosted by Executive Director Jeff Peterson and will include vivid samples, case studies, and information on two white papers based on research by the Sonoco Inst. of Packaging Design and Graphics at Clemson University. Specific techniques to be discussed include foil and embossing covering refractive stamping, multi-level embossing, ink over foil, and cold foil applications.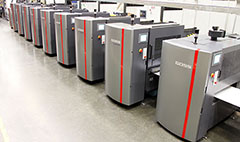 Goss International (Booth 853) will show the Goss Sunday Vpak press for high quality, short-run packaging applications. Goss also will provide further information about its latest partner solutions, such as Alwan's Color Expertise Technology. Now commercially available across the full Goss product range, this software suite includes extended color gamut, enabling customers to add two or three inks to conventional process inks for exact brand color reproduction without the need for spot inks. Facilitating a substantial reduction in the costs usually associated with ink changeovers, the update is expected to bring customers a 30% to 50% cost reduction compared to the use of spot inks through a combination of eliminating ink changeovers and reduced ink inventories.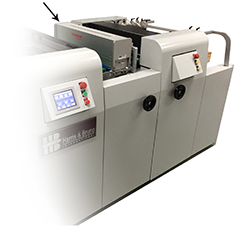 Harris & Bruno Intl. (Booth 3205) will demonstrate the ExcelCoat ZR30 offline/inline coater with optional Corona Treatment Unit and Duplexer. The Corona Treatment Unit eases wettability for primers/coating over substrates and ink traditionally difficult for adhesion. The ExcelCoat Duplexer flips sheets for seamless inline duplex coating or to prepare prints for the next downstream finishing process. ExcelCoat's chamber/anilox metering system is the preferred method for applying AQ, soft touch matte, and other coatings with particulates. Its automatic wash-up and ability to save 50 jobs allows easy repeatability with quick changeovers and minimal downtime. Also showcased will be information about company's chambered doctor blade systems, circulators, anilox rolls, web coaters, and more.
Heidelberg (Booth 857) will debut the Promatrix 106CS die-cutter at the Masterwork Machinery exhibit. The Promatrix 106 CS can handle substrates from 65 lb. text to 48 pt. board. It outputs 8,000 sheets/hr and has a maximum sheet size of 29.92 x 41.7 in., matching the format of Heidelberg's flagship Speedmaster XL 106 press. Features include pneumatic support in the cutting and stripping station; cutting plate with fine adjustment; cutting chase with quick-lock function; stripping section with quick lock frames and fine adjustment; motorized cutting pressure adjustment; and individually adjustable front lays.
Highcon (Booth 1939) will show its Highcon Euclid digital finishing technology, which eliminates the need for a die. The heart of the system is the patented Highcon DART (Digital Adhesive Rule Technology), which uses state-of-the-art resin to write the creases on the DART foil. For cutting and etching, Highcon has implemented a sophisticated array of lasers and optics. The Highcon Euclid uses a number of new technologies to optimize productivity and quality. These enable high quality cutting and etching as well as unique intricate shapes and customized cartons.
INX Intl. Ink Co. (Booth 3617) will feature EcoTech LM Process Colors ink for packaging challenges where low migration issues involving substrates, brand color specs, and converting demands leave no room for compromise. High performance inks are formulated for the sheetfed folding carton segment for indirect food contact containers where migration is a concern. In compliance with the Nestle Guidance Note on Packaging inks and the European (EuPIA) Guideline, EcoTech LM is free of mineral oil and cobalt. Formulated from vegetable oils and other bio-renewable resources, the system averages 65% by weight from these raw materials while meeting ISO 2846-1 standards and are GRACoL G7 certified.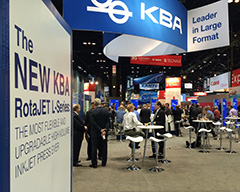 KBA (Booth 213) will focus a large part of its booth on its portfolio of large-format offset packaging presses. It also will unveil the Rapida 105 PRO medium format sheetfed offset press that runs 17,000 sheets/hr. Its new RotaJET 130 L and RotaJET 168 VL digital inkjet models will be highlighted that are applicable for decorative and packaging printing. KBA will demonstrate its growth into new markets with the success of its KBA-Flexotecnica subsidiary for flexible packaging. KBA is expanding its strong market position in the folding carton market into this growing packaging segment. KBA-Flexotecnica develops, builds, distributes, and services central-impression flexographic presses for printing on flexible packaging materials. KBA will introduce VariDry LED-UV low-energy drying technology. Designed for commercial and packaging printers from small to large format, the instant cure-to-print system offers very low energy costs to power LED-UV, flexibility to easily move LED-UV lamps interchangeably on press, as well as environmental and safety benefits.
Kluge (Booth 3625) will be demonstrating production of a presentation folder with multiple decorative effects and converting a digitally printed folding carton. The OmniFold 3000 Automatic Folding and Gluing System features modular alignment system, modular pre-break device, interchangeable bearing bed transports, automatic belt tensioning, modular auto-lock bottom device, and interchangeable vacuum transports. The OmniFold 3000 is also an integral component of the CartonsInMinutes On Demand Laser Cutting and Converting Solution for digital workflow of folding cartons. The company will introduce the Kluge UV Roller Coater product line, demonstrating the OmniCoat 2000, applying a protective and image enhancing UV coating to various products.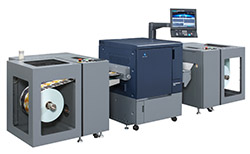 Konica Minolta (Booth 1913) will show the bizhub PRESS C71cf, a new digital press specifically designed for label and narrow web applications. Cost of ownership is said to be significantly less than what the market has come to expect from feature-rich presses. This means a large spectrum of the flexo and packaging markets now have access to high-end digital performance, backed by Anderson and Vreeland's sales and service organization. The C71cf is also backed by Konica Minolta's bizhub vCare program (diagnostic server and web app) that provides a 24/7 comprehensive diagnostic overview of the printer.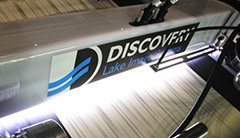 Lake Image Systems (Booth 2263) will show its Discovery MaxScan compact scanning technology for high speed inspection. It was awarded a Graph Expo MUST SEE 'EM for the second year running. Single lens line-scan cameras suffer from angular variation from the center to the edges, which makes reading variable data on wide web presses and inspecting for print defects challenging especially for high quality VDP applications and highly reflective surfaces (i.e. holograms, foils, etc.). MaxScan solves this problem by using a compact scanning technology, comprising of a series of CMOS image sensors, lens and illumination arrangement along its entire length that produces sharp 600 dpi image definition. These advances enable this unit to operate at working distance of 12 mm (1/2 in.) and reduces the required headroom to less than 130 mm (5 in.), even with webs in excess of 90 0mm wide. The compact Discovery Maxscan easily integrates within the transport system of all digital printers, label presses, and finishing equipment, without the need for costly additional rollers, redesigned web paths, or complex optical assemblies.
Messe Dusseldorf (Booth 4048) will promote its 2016 printing trade fairs, including drupa, All in Print China, and INDOPRINT.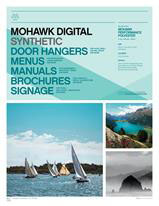 Mohawk (Booth 3002c) will introduce two substrate lines at the Materials Matter pavilion. Mohawk Synthetic Performance Polyester is a new digital synthetic film designed for a variety of everyday durable applications, including POP displays. The Mohawk Pressure Sensitive Select Collection features white polyester and vinyl labels in the three most popular adhesive strengths: permanent, removable, and ultra-removable. With HP Indigo and dry toner optimized versions, this new collection is designed to run on a range of digital printing equipment including light production. New larger format swatchbooks will be available.
OKI Data Americas (Booth 4031) will demonstrate its line of digital printing solutions and will introduce the C942, the latest five-color production A3/tabloid device. The C711DW continuous feed color digital label press will be demonstrated with optional digital die-cutting and lamination finishing equipment (the HS711DLF), delivering a complete digital label printing production system.
PFFC | Paper, Film & Foil Converter (Booth 4306) will offer free subscriptions to our popular E-Clips e-mail newsletter. Stop by to get listed in our industry-leading directories and to learn how we can help grow your business. Meet our staff and expert columnists.
PSI Engineering (Booth 156) will debut the Color Laser Mail 7000 toner-based digital press envelope printer, available in four and five colors. With on demand variable data/variable image printing, the Color Laser Mail 7000 prints opaque white or clear, allowing white on dark colored media. The straight-thru print path runs media thickness up to 450 gsm and supports a wide variety of envelope sizes from 3 in. x 5 in. (7.6 x 12.7 cm) to 13 in. x 26 in. (33 x 66 cm). Other print media include tabloid extra 12 in. x 18 in. (30.5 x 45.7 cm), tabloid 10 in. x 17 in. (25.4 x 43.1 cm), legal, letter, executive, index cards, and banners up to 13 in. x 52 in. (33 x 132 cm).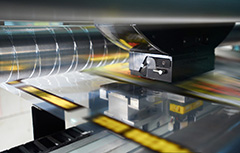 QuadTech (Booth 3345) will present the QuadTech Color Quality Solution, an in-line color measurement and ink control system utilizing the Color Measurement System with SpectralCam. It enables automatic sharing and processing of color data between in-line color measurement and off-line color measurement industry leaders. The modular and integrated 100% Inspection System inspects the entire substrate width 100% of the time, delivering high levels of accuracy and quality, increasing efficiency, reducing waste, and minimizing costs.
RadTech will hold a special meeting of the Printing & Packaging Focus Group from 2:00–3:45 p.m. followed by a reception on the exhibit floor from 4:00–5:00 p.m.
Scodix (Booth 2231) will exhibit Scodix Foil, an inline digital foiling module that integrates Compact Foilers' technology for the Scodix Ultra Pro press. The foiling unit will support countless substrates and most popular foils and will overcome the time and waste issues inherent with current solutions. Scodix Foil makes it cost effective to implement the effects of foil for run lengths of only 1 up to 10 thousand and more. The innovation has been named a Graph Expo Must See 'Ems in the Postpress and In-Line Finishing category.
SpencerMetrics (Booth 3645) will show its patent-pending measurement and analysis software tool that provides press owners and managers with real-time data, measuring the productivity of their digital presses as they are used on the shop floor. Through data collection and instantaneous cloud-based analysis, the system offers an immediate view into the efficiency of digital press operation as it is actually in use.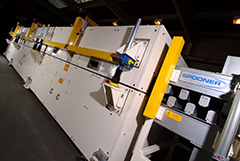 Spooner Industries (Booth 4518) will show its range of curing and drying equipment, including an extensive variety of flotation nozzles, from the single slot air foil (SpoonerFoil) to the twin slot air flotation (MultiFloat, SpoonerFloat, SupaFloat, and MaxFloat), with many more derivatives available. Nozzles provide highly efficient heat transfer and very stable flotation with no vibration or web flutter. Company also will introduce Jeff Privatt, the latest member of its US customer facing team.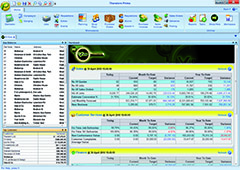 Tharstern (Booth 158) will formally launch its expansion into America. The company's MIS and workflow software technology for print and packaging covers intelligent estimating, a print-based CRM solution, and comprehensive integrations to storefront, customer purchasing, account, prepress, press and post-press systems and solutions.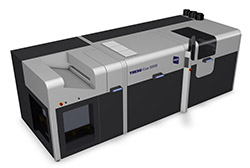 TRESU Group (Booth 1202) will demonstrate its iCoat post-print coating system for digitally printed sheetfed applications at HP's booth alongside the HP Indigo 10000 digital press. The iCoat uses flexo technology and is capable of running at a minimum of 5,000 sheets/hr on board substrates between 180gsm (121.6 lb) and 500gsm (337.8 lb). It features corona treatment, quick-change sleeve technology, and the ability to switch from UV to aqueous varnish within a few minutes. End-user folding carton sectors benefiting from the iCoat technology include cosmetics, pharmaceuticals, retail promotional packaging, and foods.
X-Rite will showcase its end-to-end color management solutions in both the Color HQ (Booth 535) and Rutherford Graphic Products (Booth 436) stands. Both dealers will highlight how attendees can implement closed-loop color control processes to reduce make-ready times and minimize ink and substrate waste. On display will be X-Rite eXact Scan, a handheld spectrophotometer that can measure a true M1 Part One (as opposed to a simulation) and capture M0, M2, and M3 simultaneously for both spot and scan readings. X-Rite IntelliTrax offers press-side color control and fast color correction on press for high speed printing.
Show Hours
Sunday, September 13: 12 p.m. – 5 p.m.
Monday, September 14: 10 a.m. – 5 p.m.
Tuesday, September 15: 10 a.m. – 5 p.m.

Wednesday, September 16: 10 a.m. – 3 p.m.