Published: February 18, 2015, By Claudia Hine
At well over 1 million sq ft and growing, the triennial plastics showcase will have operating equipment at 400+ booths
NPE2015: The International Plastics Showcase takes place March 23-27 at the Orange County Convention Center in Orlando, FL. Produced every three years by SPI: The Plastics Industry Trade Assn., the trade show and conference features the latest technology and equipment for every phase of plastics processing. Attendance is expected to reach 60,000 visitors.
SPI reports this year's event will be the largest ever, covering more than 1,060,000 net sq ft of space. More than 600 companies will have equipment at their booths and 400+ will be operating systems. "With so many exhibitors operating equipment, the show floor will be a dynamic panorama of manufacturing in action," said Gene Sanders, SPI's senior VP of trade shows and conferences. "Visitors will encounter a host of opportunities to see demonstrations of the latest technologies and materials up close and to interact with equipment and product experts. It will offer buyers the rare opportunity to test before they invest."
Show Highlights
In addition to seeing lots running equipment, the weeklong show will provide attendees with plenty of educational opportunities and networking events. "Our conference programs alone will make NPE2015 unique among plastics trade shows in providing a robust educational experience," said Sanders. "There will be hundreds of individual presentations, discussions, and seminars, with a range of content enabling attendees from every sector of the plastics value chain--processors, suppliers, designers, toolmakers, OEMs, and brand owners—to find something of real interest and value."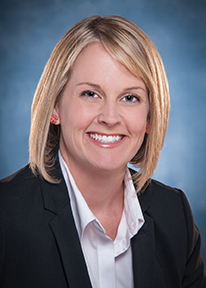 Here are a few highlights of interest to converters.
Cindi Marsiglio, Walmart VP of US manufacturing, is the featured speaker at the Key Market Breakfast Briefing. Marsiglio is responsible for facilitating opportunities with current and new suppliers to Walmart to accelerate the availability of US-made goods available to Walmart customers. The briefing will take place from 7:30 to 10:00 a.m. on Tuesday, March 24. The event is free and open to all registrants.
The NPE3D pavilion is an expanded special section of the show floor dedicated to technology for 3D printing, providing the opportunity to learn more through exhibits and actual demonstrations. One of the highlights of the pavilion will be a demonstration by 3D printing specialist Stratasys of its new Objet500 Connex1 multi-material 3D Printer, which can produce parts from three materials in a single production run, allowing users to create assemblies with components formed from three different materials, or components that contain both rigid and flexible materials.
The

Startup Garage

, developed in partnership with Startup.Directory, a new-venture tracking firm, will provide startups with prominently located exhibit stations. Companies selected will highlight innovations in bioplastics, recycling, 3D printing, polymerization, resin processing, and antimicrobial polymers. Three of the startups report developments in the burgeoning field of graphenes—two-dimensional carbon-atom nanostructures that can be used for formulating plastics composites with dramatically enhanced properties.
The Vinyl Saves Lives booth will feature medical isolation units and equipment plus a variety of plastic products including protective garments and gear used to treat and protect medical personnel, patients, and the populace from diseases and pandemics such as Ebola and SARS. Products on display will be those made predominantly of vinyl (PVC).

Booth Descriptions
Addivant (Booth S28157) will showcase the global launch of WESTON 705, a nonylphenol-free liquid antioxidant that received final FDA and global food application approval in November 2014. It is said to provide superior safety as well as enhanced polymer performance and higher processing productivity vs. conventional solid phosphites and reportedly opens routes for significant productivity improvements across the value chain, from resin producers and converters to retailers and consumers. Additionally, Addivant will feature new successful applications in the company's unique POLYBOND coupling agent range for polyolefins and new successes in its broad specialty antioxidant products LOWINOX, ULTRANOX, GENOX, NAUGARD, and FLEXAMINE.
ATP adhesive systems (Booth S30084) will show its line of solvent-free, specialty pressure-sensitive and heat activated tapes and films for the automotive industry.
Davis-Standard LLC (Booth W6144) will feature a 3-1/2 (90-mm) direct drive extruder to showcase the advantages of direct drive technology, which offers significant advantages in energy consumption, sound level, and output consistency over AC and DC extruder models. . The direct drive operates on a permanent magnet synchronous motor, which does not require a mechanical gear reducer to multiply torque to rotate the screw. This, coupled with an energy efficient screw design, enables the extruder to process a greater variety of resins with consistent quality and outputs. An innovative heating/cooling system, narrow footprint, and low-maintenance design further result in operating cost reductions and energy efficiency. Davis-Standard's aftermarket department will exhibit multiple feedscrew designs, fast delivery spare parts, a rebuilt Thermatic extruder, and a variety of extrusion control systems and upgrades.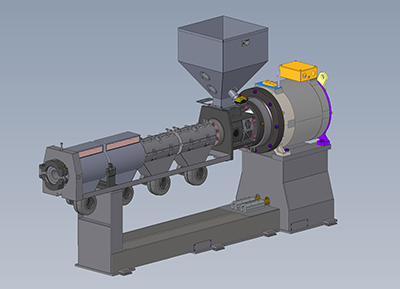 Gloucester Engineering Co. Inc. (Booth W6744) will show the new ExtruTouch controls platform, which is custom designed for blown film systems to control vacuum loading; blending; speeds, temperatures, and pressures; gauging; profile control; and safety. It combines the robustness of GEC's prior generation controls with the latest technology and enhanced graphics. Based on B&R's latest X-20 generation PLC, ExtruTouch comes with a large 22-in. color touchscreen that uses intuitive, easy to understand graphics. It includes multi-language capabilities, remote access, easy interfacing with other Windows-based applications, OPC compatibility for connectivity to common third party analysis tools.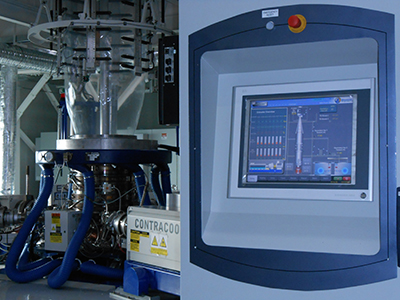 Goldenrod (Booth 7264) will show its line of multiple bladder air shafts, differential winding shafts, light weight shafts, carbon fiber shafts, reel spools, chucks, safety chucks and shaft handling systems for the paper, film, foil, and non-woven converting industries.
Kiefel (Booth W4763) will demonstrate how to produce PET trays using the Speedformer KMD 90, a new pressure forming machine said to ensure a higher productivity due to fast cycle times and larger forming area. Can process PS, OPS, PP, PE, PVC, PET, PLA or CPET. Features include new high output ceramic heaters that enable fast and efficient energy absorption into the sheet, promoting increased cycle speeds with a smaller oven footprint. The servo-driven forming station offers a servo 3rd motion plug drive available for either the upper, lower, or both platens depending on tool configuration. With over 44 tons of clamping pressure, the forming station is capable of delivering up to 75 psi of forming pressure to ensure excellent part quality.
Macro Engineering & Technology Inc. (Booth W5845) will introduce a new extrusion line to produce polylactic acid (PLA) foam. The line uses tandem extruders to produce foamed PLA sheet between 1.2 and 5.0 mm with a foam density of 0.07 g/cc (16x expansion ratio). The sheet can be thermoformed into compostable clamshell packaging and trays used for cold food applications. Macro uses a proprietary new extruder design to address obstacles that are inherent to foaming PLA, namely working around the material's low melt strength, melt crystallinity, and narrow processing window. The result is uniform melt temperature distribution and reliable foaming.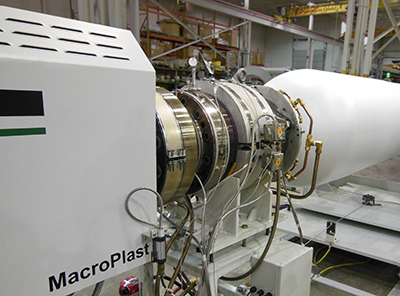 Maxcess (Booth W8345) will showcase Webex heat transfer rolls for precise temperature management; the Fife SE-45 sensor for multiple webs and web width variation; and Tidland's e-Knifeholder with 360-deg blade guard designed to provide automatic calibration for knife depth and side force. MAGPOWR will demonstrate its Cygus tension control, said to dramatically reduce setup time and improve consistency.
Messe Düsseldorf (Booth W1191) will promote its own international plastics and rubber trade fairs, including K 2016 (October 16-23, 2016, in Dusseldorf, Germany) and T-PLAS 2015 (August 26-29 in Bangkok, Thailand). Both visitor and exhibitor information will be available at the booth, along with information on other plastics trade fairs in the Messe Düsseldorf portfolio.
Mokon (Booth W2662) will show its line of circulating liquid temperature control systems.
Nordson Corp. (Booth 6263) will exhibit all four of the company's brands: a breakthrough Nordson EDI flat-die mechanism for sheet extrusion, new Nordson BKG equipment designs that increase throughput in underwater pelletizing, Nordson Xaloy plasticizing units that solve special problems in injection molding and extrusion, and Nordson Kreyenborg melt filtration systems that reduce downtime in extrusion, compounding, and recycling.
Siemens (Booth W3515) will have a new extruder temperature control system in operation, plus a Hahn MasterCell automated parts handling cell running in the booth. The company also will display its full range of motion control components and software for plastics processing.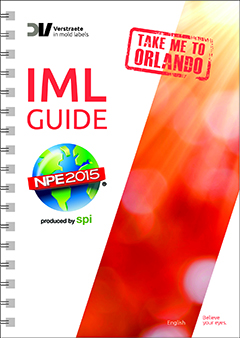 Verstraete In Mold Labels (Booth S36027) has created a guide for the show to help you locate more than 35 IML-related exhibitors. It contains information about the latest IML innovations and a voucher to get a free IML innovation box at the booth. This guide not only gives you an overview of where to find injection molding machines using in mold labels from Verstraete, but it also offers you an insight of the all technical information of these IML systems. You can request the Verstraete NPE2015 IML Guide at www.imlguide.info.
For a complete exhibitors list, click here.
The exhibit hall opens from 9:00 a.m.– 5:00 p.m. Monday through Thursday, March 23–26, and 9:00 a.m. to 3:00 p.m. on Friday, March 27.
For more information, visit www.npe.org.